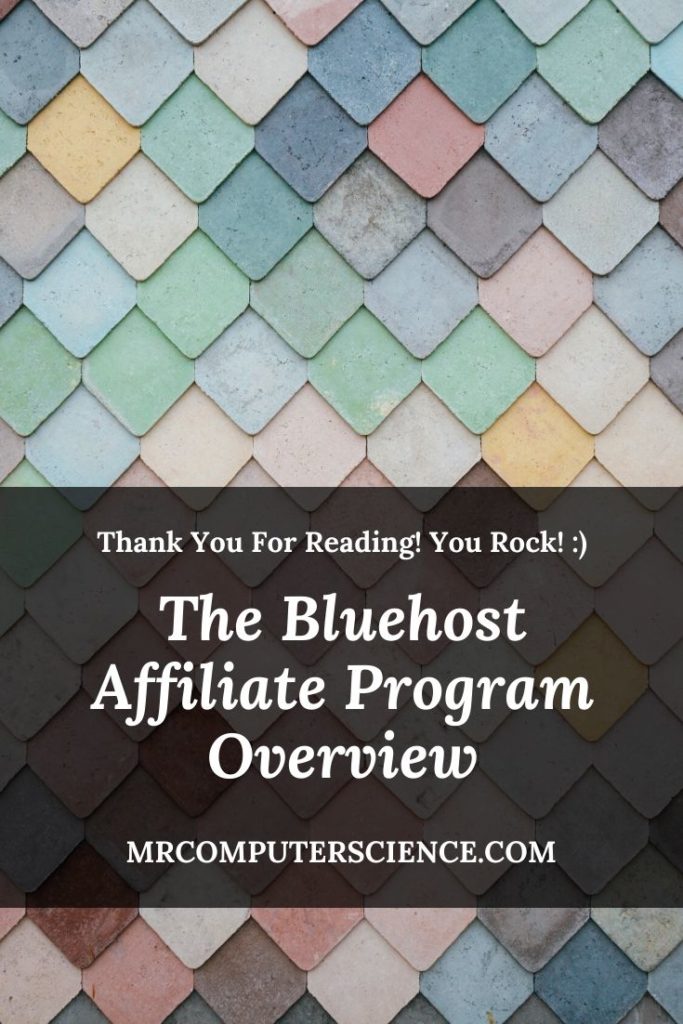 Bluehost is one of the most popular web hosts around. Bluehost offers relatively inexpensive domain registration and web hosting for a wide variety of websites.
If you've been in the blogging game for long, then you've probably heard of Bluehost a dozen times over. But, did you know that Bluehost also has a cool affiliate program?
The Bluehost Affiliate Program
If you're looking for a decent web host to recommend, then Bluehost might be a great choice. They're a popular brand, and you can leverage some of their awesome tools by recommending them to your audience.
I've been blogging for years and I find that Bluehost easily has one of the more popular affiliate programs in the web hosting realm. There are two reasons I think that the Bluehost affiliate program is so popular.
One is that their hosting platform rocks. If you want to recommend a solid web host to your audience, then Bluehost offers a great solution.
Also, Bluehost boasts a tremendously generous affiliate program, which is good news for affiliates, bloggers, and influencers alike!
Register For The Bluehost Affiliate Program: Registering for the Bluehost affiliate program is simple. Visit the following URL: https://www.bluehost.com/affiliates.
What You Can Sell As A Bluehost Affiliate?
The best thing about affiliate marketing is that you can promote a third party's business and earn a commission! But, what about Bluehost? What type of stuff can you promote as a Bluehost affiliate?
​The main hook as a Bluehost affiliate is, of course, their flagship web hosting. If you want to promote an awesome web host with amazing support, then Bluehost might be an awesome option for you.
What Type Of Audience Might Be Interested In Bluehost Hosting?
Matching your audience with the right affiliate product is critical.
If you're a blogger who loves to write about all of the best blogging widgets, websites, hosts, plugins, et cetera, then the Bluehost affiliate program might match perfectly with your audience.
Or, perhaps your audience loves to write? If so, then maybe they might love to launch a blog using Bluehost. Or, maybe you write about small business tips and your audience would love to launch a website? If so, then Bluehost might be a great match for your readers.
Know Your Audience: Knowing the core desires of your audience is critical for all affiliate marketers! The Bluehost affiliate program rocks if your audience is looking for a fantastic and affordable web host!
Why I Like The Bluehost Affiliate Program
​The main reason why I love the Bluehost Affiliate Program is that the commissions are very generous! Bluehost offers roughly $65 per qualified lead, which is great!
Bluehost also has a stellar reputation and they have a ton of positive reviews on different websites and platforms. For those reasons, you can be proud to share the Bluehost name brand with your trusted audience, beloved readers and colleagues!
The Bottom Line
The Bluehost affiliate program is recommended if you want to share great hosting deals with your audience. You can count on Bluehost to offer excellent support, and their reviews are typically stellar.
Bluehost Affiliate Program Benefits:
# 1 – Generous commission structure
# 2 – Excellent product that you can be proud to recommend
# 3 – Popular (and well respected) brand name
# 4 – Perfect for entrepreneurs, marketers, writers, business owners, et cetera
Your Audience Might Love Bluehost Hosting If:
# 1 – You write or blog about blogging, self-publishing, et cetera
# 2 – You have an audience of prospective bloggers
# 3 – Your readers love the topics of WordPress, marketing, or writing
# 4 – You have an audience of small business owners who want a website
How Can You Register And Login To The Bluehost Affiliate Program?
For your convenience, I've included the URL where you can register to become a Bluehost affiliate and you can learn more by visiting below.
​https://www.bluehost.com/affiliates
Thank You So Much For Reading!
Do you love affiliate marketing as much as I do? If so, then I'm happy to share this document with you.
It's my main goal to archive and documents some of the world's best and most popular affiliate networks in a neat and orderly fashion.
Therefore, I can't thank you enough for reading this.
You rock!
Also, please let me know if you have any requests, comments, or feedback. Moreover, let me know how I can improve this listing?
Cordially and humbly…
Mike "The Affiliate Network" DeVincent
MrComputerScience.com