Curated newsletters are the perfect tool for engaging and informing readers – especially if you're not the most prolific writer. By carefully selecting and curating content from various high-impact sources, you can provide nearly any audience with a valuable and personalized experience.
The curated newsletter writing process involves scouring the internet for relevant articles, tutorials, social links, blog posts, and news pieces that align with your audience's interests and preferences.
Sleuthing the web for helpful content allows you to act as a filter, sifting through the vast amount of information available and presenting only the most pertinent content to your subscribers.
Doing so empowers your audience and saves them tons of time and effort in finding valuable information. You also establish yourself as a trusted source of curated content.
A curated newsletter also enables you to add your insights and commentary, further enhancing the value you provide to your readers. So, if you wish to engage and inform your audience meaningfully, consider creating a curated newsletter as part of your content strategy.
I've written, planned, and deployed newsletters for many years. And you can profit from my experience by reading this guide. It shouldn't take more than ten minutes of your time.
Sound like a good deal?
Then, let's continue. 🙂
Why Create A Curated Newsletter? Here Are Three BIG Benefits
We're not creating a newsletter for the hell of it. There are many profitable reasons to create one.
The benefits are as follows.
1 – Curated Newsletters Build Authority
Newsletters are a crucial tool for building authority in today's digital landscape. By regularly sharing valuable content with your audience, you establish yourself as a trusted source of information in your industry.
A well-crafted newsletter lets you showcase your knowledge and expertise, offering insights, tips, and news that your subscribers might enjoy reading.
The best part – is that it doesn't matter what niche you want to focus on. Whether you love cooking, dating, dieting, artificial intelligence, or cryptocurrency, the newsletter world is massive – and open.
Moreover, curated newsletters provide an opportunity to engage with your audience personally. They enable you to foster a community and converse with your readers. This two-way communication helps to build trust and loyalty among your subscribers.
2 – Newsletters Let You Promote ANYTHING You Want
Have a new book launch? A webinar you want to promote? A new article? Or maybe your friend needs to get their GoFundMe campaign off the ground? Well – a newsletter could help you in each case. 🙂
Newsletters are incredibly versatile tools that allow you to promote anything you want. Whether you're a small business owner looking to showcase your latest products and services, a non-profit organization seeking to raise awareness for a cause, or an individual aiming to share your passions and expertise, newsletters offer a powerful platform to reach your target audience.
With a curated newsletter, you can easily tailor your content to suit your specific goals and objectives. You can include captivating stories, informative articles, exclusive offers, and interactive elements to engage your readers.
The best part is that newsletters can be distributed through various channels, such as email, social media, or even printed copies, ensuring your message reaches as many people as possible.
So, whether you're looking to increase sales, gain new followers, or connect with your audience, newsletters are my favorite way to promote anything you desire.
(Curated newsletters also ROCK for affiliate marketing, network marketing, sponsorships, paid promotions, et cetera.)
3 – Launching A Curated Newsletter Has NEVER Been Cheaper Or Easier
You might not believe me. But I'm not some mega-rich guru. In fact – I'm more like a highly educated peasant. Lucky for me – I publish several newsletters and publications without spending much cash. 🙂
In fact – launching a newsletter has never been cheaper or more straightforward than it is today. Period! With the rise of email newsletter platforms and the abundance of free or low-cost email marketing services, anyone can create and distribute a newsletter without breaking the bank or spending hours on complex coding.
Whether you're a small business owner, a content creator, a freelancer, a tech nerd, or a passionate hobbyist, the email newsletter and resources available to you these days are unparalleled compared to even a few years ago.
And the newsletter apps are user-friendly, easy to use, and drag-and-drop simple. Many also have FREE plans, so you won't have to pay a penny until you grow your email list. (For example – AWeber gives you 500 free subscribers. BeeHiiv gives you 2,500 free subscribers. GetResponse also offers 500 free subscribers.)
Additionally, various integration options and automation features allow you to schedule and send newsletters at the perfect time for maximum reach and engagement.
Do you like my content? Then register for my FREE marketing newsletter by clicking here. I've been running it for years. Join the gang. Subscribers also get some of my best guides, presentations, goodies, and cheat sheets. 🙂
Creating An Elite Curated Newsletter In 10 Easy Steps
Here's an easy-peasy, 10-step method teaching how to curate valuable content, design an engaging layout, and optimize your newsletter for maximum impact, all while building a loyal subscriber base.
Step 1. Determine Your Newsletter Niche Or Topic
Your niche sets the foundation for your newsletter and helps you cater to a specific audience. Start by brainstorming potential topics that align with your interests, expertise, and target audience's needs.
(Look for niches with a large enough audience – and a niche with plenty of organizations publishing content in these areas.)
Some of the most red-hot email newsletter niches include the following.
Artificial intelligence
Cryptocurrency
Finance
Dating
Hobbies (Like knitting, pottery, coffee, et cetera.)
Romance
Raising Animals
Home & Lifestyle
Self-Help
Making Money
Off-Grid + Survival
Technology
Farming
Marketing
Writing
Side Hustling
Agriculture
Pets
As a rule of thumb – if popular journals, blogs, magazines, publications, experts, gurus, books, courses, products, or other content curators exist in a niche – there's likely ample room for a curated newsletter.
The more you know about your newsletter topic – the better. You're NOT the main show here. You're sharing OTHER people's content. But – if you add editorial comments, your expertise can ONLY help you.
Consider what unique insights or value you can offer in your chosen newsletter niche. Conduct market research to identify any gaps or opportunities in the market that you can fill with your newsletter.
Once you have narrowed your options, evaluate each niche's potential profitability and sustainability. Are there successful products, publications, and newsletters in your preferred newsletter niche? Competition here isn't a bad thing. It's validation – a good thing.
My best advice is to choose a niche you are passionate about and can commit to consistently delivering valuable content. You might spend the rest of your life studying and researching this topic. Choose wisely! 🙂
Remember – finding the right newsletter niche is a crucial first step toward building a loyal and engaged subscriber base.
Step 2. Research And Gather Content For Your Curated Newsletter
Researching and gathering worthy content for your curated newsletter is your REAL job as a newsletter curator. To create a successful curated newsletter, you must find and curate content. But not just any content. Try to find the best content!
Start by identifying your target audience and understanding their needs and interests. Knowing your ideal audience will help you focus your research and ensure that the content you gather resonates with your readers.
Have you ever heard of Eugene Schwartz? He is arguably one of the best copywriters ever! Eugene touted that copywriters must study their audience's mass desires. The same applies to your newsletter audience. In other words – what does your ideal subscriber want more than anything?
With your newsletter audience in mind – look for relevant and engaging guides, news articles, YouTube tutorials, webinars, and social media updates.
Scan various sources, such as industry publications, blogs, Subreddits, reputable websites, YouTube, and social media platforms, to find the latest news, trends, and insights.
I use Feedly, an RSS platform, to follow over 1,752+ sources across various niches. It's the easiest way to scour the internet in minutes and extract the highest-value, most popular articles published daily. Feedly is the ultimate hack for newsletter curators!
I use Feedly to follow a ton of niches – including the following.
Internet Marketing
Local New England News
National News
UFO Topics (paranormal!)
Technology Publications
Cooking Blogs
My Favorite YouTube Channels
Tons more!
Always watch for unique and compelling stories that might captivate your subscriber's attention!
As you gather content, be sure to evaluate its credibility and accuracy. Verify information from multiple sources and cross-reference facts to ensure you provide reliable content to your subscribers.
Double-checking accuracy for your curated newsletter is a BIG deal. Imagine sending a factually incorrect article to 10,000 email newsletter subscribers. Imagine all the angry responses you could get as a result! 🙂 So – always double-check the content you promote for accuracy.
Step 3. Choose A Newsletter Platform
You have a plethora of options to consider when choosing a newsletter platform. Your first step is determining your specific needs and goals for your newsletter.
In other words – are you looking for a platform that is easy to use and requires minimal technical expertise? Or do you need advanced features and customization options? Or maybe you're an editor on a budget (like me) who wants a low-cost newsletter option?
Once you have identified your requirements, you can start exploring different platforms.
Popular Email Newsletter Platforms:
AWeber – AWeber is perfect if you want an email newsletter platform with high deliverability and ease of use. I've used AWeber for the MrComputerScience.com newsletter since around 2012. I've never had a reason to look elsewhere. I love them! And even though I'm a constant tinkerer, I haven't broken their app. Not yet, at least! 😀
BeeHiiv – BeeHiiv is one of the latest and greatest email newsletter platforms. They're free for your first 2,500 subscribers. And – they have excellent email list building and monetization features built-in. Watch out for this platform. BeeHiiv will be one of the biggest newsletter platforms in the coming years. And no – I don't make that prediction lightly. 🙂
SendFox – SendFox is one of the most affordable email platforms by the AppSumo team. SendFox doesn't have fancy features like other established email marketing platforms. But – you can get a tremendously good deal on SendFox if you buy on AppSumo. A lifetime deal costs anywhere from $50 to $250 at present, depending on the size of your email list. (You cannot beat the price. And SendFox keeps adding features.)
ConvertKit – ConvertKit is a highly regarded newsletter platform particularly well-suited for bloggers. Convertkit offers a user-friendly interface and nifty templates. They also have intuitive email sequence automation – plus tons of email list-building tools that integrate into your blog.
Brevo – Brevo is another excellent email marketing platform with a surprisingly low cost. They've also been in the newsletter game for a long time – they used to be called SendInBlue. Their reputation is good – and they've been around a while.
ClickFunnels – ClickFunnels is undeniably a powerful platform for lead capture page templates and comprehensive marketing training. However, it's worth noting that ClickFunnels is slightly more expensive than other platforms. That said, ClickFunnels undeniably has some of the best marketing features of any marketing app, so they're worth a mention here.
MailerLite – I have lots of high-quality experience using MailerLite – they are one of the easiest to use, and their interface is perfect. They are a fantastic choice for newsletter curators looking for an excellent and cost-effective email newsletter platform. With its low-cost plans and a wide selection of eye-catching templates, MailerLite enables users to create professional newsletters without breaking the bank.
GetResponse – GetResponse is one of the original newsletter platforms. I have experience using them several years ago. They offer cost-effective pricing plans and intuitive features – making them an excellent choice for newsletter curators seeking a straightforward, budget-friendly solution for their newsletter needs. (They also sent me a GetResponse stuffed animal and a click pen once. So – they get bonus credits for being a friendly team.)
Kartra – Kartra is widely recognized for its impressive email marketing funnels and automation, making it an outstanding choice for info businesses and newsletters. While it may come with a slightly higher price tag than ordinary newsletter platforms, Kartra's built-in marketing systems are top-notch, providing users with advanced tools for automating their marketing efforts and maximizing conversions.
One final thing – consider the platform's scalability – can it handle a growing subscriber base? And will it be affordable if your newsletter continues to grow?
Take your time to research and test out different platforms before making a decision. Study and get to know their pricing plans.
Remember, choosing the right newsletter platform is crucial for the success of your curated newsletter efforts. And – it's an app that you might use daily. So – choose one that feels the best for you!
Step 4. Design A Newsletter Template Or Layout
Email newsletter templates are likely one of my best-kept secrets for being able to publish newsletters consistently and reliably. (I've been writing them for nearly a decade now.)
Templates make your job as a newsletter writer FIFTY TIMES easier. And – newsletter templates also have other little-known benefits – for you and your readers.
A well-designed newsletter template ensures consistency in branding.
Templates also help in creating a visually appealing and engaging reading experience.
Writing your email newsletter is also way less stressful when using a template.
When designing a newsletter template, it is vital to consider the overall structure and organization of content.
The main goal is to create a clean, professional newsletter layout with clear sections and headings to help readers navigate your newsletter easily.
(You want your newsletter to be easy to read. And – you also want your newsletter to APPEAR like it's easy to read at first glance. Ugly walls of text are your newsletter's death knell.)
Selecting an appropriate color scheme and typography that aligns with your brand identity can further enhance your newsletter's visual appeal and establish your brand.
It is also crucial to optimize the template for mobile devices, as many subscribers will likely access your newsletter on their smartphones or tablets.
Lastly, don't forget to include eye-catching graphics and images that complement the content and make the newsletter more visually appealing.
And finally – if you suck at graphic design, don't panic. Most decent email platforms will make it easy to craft a newsletter template. Or – they usually have several templates you can choose and customize to make them your own.
Step 5. Set Up A Lead Capture Page For Your Newsletter
Never underestimate your newsletter's lead capture page or registration page. It might be the FIRST thing your subscribers will ever see about your brand. Let's try to make it so it's not the LAST time they see you. 🙂
Your newsletter signup page has one purpose. To entice visitors to provide their contact information in exchange for your legendary curated newsletter!
I have a ton of experience building lead capture pages. I even created a course on the topic that had over 500 students.
(Check out my legendary newsletter registration page below. Something like this usually converts at around 30% – 50%, depending on the traffic source.)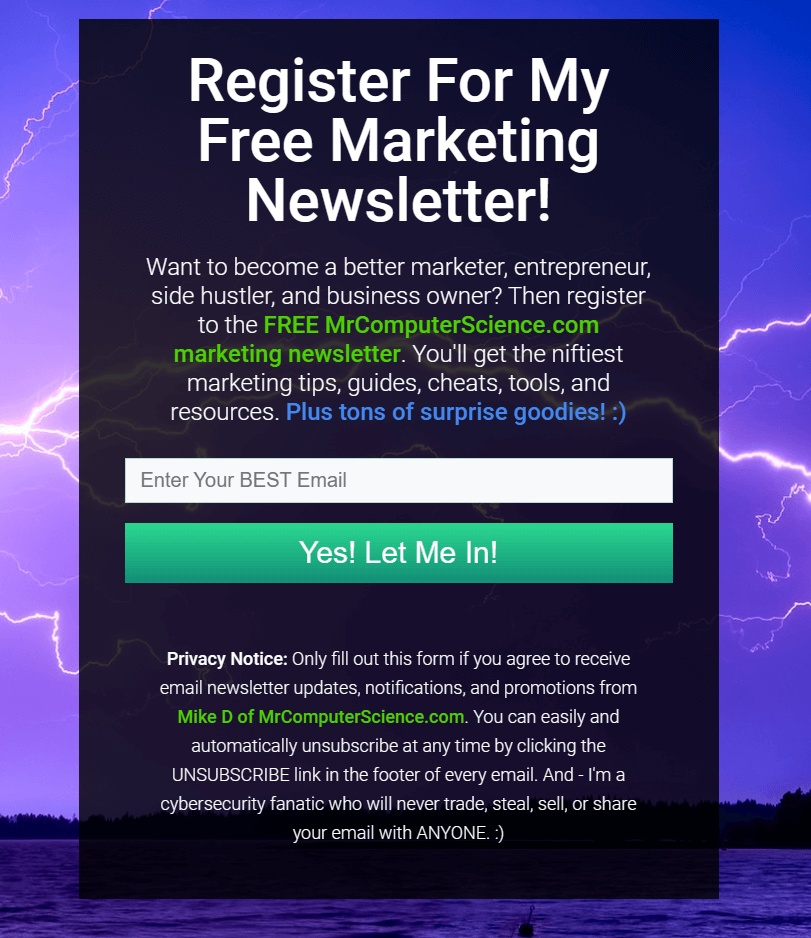 Try to make your lead capture page accomplish the following goals.
Make it so your end-user can understand the benefit of your curated newsletter in under five seconds of landing on your page.
Make your call to action (opt-in form) on the TOP HALF of your page. (Never make your reader SCROLL to find the opt-in form.)
Have a prominent, bold headline with a BIG call to action button.
Ensure your lead capture page loads fast and looks great on various platforms. Especially mobile.
The keys to an effective lead capture page are simplicity and clarity. Keep the form fields minimal, asking for only the essential information you need to deliver your curated newsletter.
It's also critical to communicate the benefits of subscribing to your curated newsletter and why visitors should trust you with their email addresses.
Additionally, consider using attention-grabbing headlines and persuasive copy to convince visitors to take action.
Regularly evaluate and optimize your lead capture page to improve performance and maximize conversions.
And – create MULTIPLE variations – and put them head to head. Which lead capture page gets a higher opt-in rate? Always try to beat your top converting page!
Step 6. Write And Format Your First Curated Newsletter
Writing your first curated newsletter can be an exciting and fulfilling endeavor. My best advice is to heed both the content and the format.
Don't get overwhelmed! Your first issue should be fun and rewarding. So relax! Start by selecting the topics and articles you want to include in your newsletter.
Choose relevant and engaging content that will resonate with your target audience.
Next, consider the format of your newsletter. Break the text into shorter paragraphs to make it easier to read and digest. Include eye-catching headers and subheadings to guide your readers through the content.
Use bullet points or numbered lists to organize information and make it visually appealing.
Don't forget to include images or graphics to enhance the overall design and break up text.
Lastly, don't be afraid to experiment and try different formats to see what works best for your subscribers.
(Just because you love your newsletter template – doesn't mean you should stop evolving. Constantly test new templates. Maybe you can find a way to get more clicks? Keep testing!)
Step 7. Schedule Or Send Your First Newsletter
With your curated content ready and organized, it's time to schedule or send your first newsletter!
Luckily – this is one of the least fussy and most rewarding parts. Your research and newsletter template does much of the heavy lifting.
Once your content is ready, you can either schedule your newsletter to be sent at a specific date and time or hit the send button immediately.
(I almost ALWAYS schedule my email newsletters a few days in advance. That way – I can sit back and relax! And I know the newsletter will broadcast at the exact time I specify. Never wait until the last minute.)
Remember to track the performance of your newsletter using analytical tools to gain insights into open rates, click-through rates, and conversions.
Look for patterns when analyzing your email analytics. What topics do your subscribers love opening and clicking? What topics do they NOT like opening and clicking? And – what topics make you the most money?
Don't forget to test different subject lines and calls to action to optimize your results.
Once you get the hang of sending newsletters regularly – you'll become smitten and, daresay, obsessed with sending future newsletter issues.
8. It's Time To Promote Your Newsletter Everywhere!
Don't be bashful when promoting your curated newsletter. Tell everyone who will listen to register!
Take advantage of every opportunity to showcase your newsletter to potential subscribers.
Share your newsletter on your website, blog, and social media platforms.
Don't forget to include a signup form on your website so visitors can easily subscribe.
Utilize email marketing to communicate with your current contacts and encourage them to register.
Consider running ads on relevant websites or using social media advertising to reach a wider audience.
Share your thoughts using online forums (Quora and Reddit come to mind) or other communities related to your niche, and mention your newsletter in your contributions.
Remember, the more exposure your newsletter receives, the higher the chances of attracting new subscribers. So, get creative, be consistent, and promote your newsletter everywhere!
Step 9 – Engage With Your Email Subscribers and Collect Feedback
Engaging with your email subscribers is crucial for building a real-world relationship and collecting valuable feedback.
The best way to engage is by asking your subscribers outright!
In other words – invite your email subscribers to REPLY to you – and always invite an open dialogue. Answer any questions that your newsletter subscribers send.
Also, consider asking questions in your curated newsletter. What do your subscribers want to hear about next? Invite subscribers to reply and gather feedback about their experience with your emails and suggestions for improvement.
Interacting with your subscribers will provide you with invaluable insights. Gathering feedback also shows your subscribers that their opinions are important to you.
Remember to analyze the data you collect and adjust your email marketing strategy accordingly.
Step 10 – Continuously Curate And Publish More Newsletters
I've been writing email newsletters – and teaching others how to write newsletters – for years.
And, as someone who has interacted with countless newsletter publishers, I'm confident in stating the following. One of the BIGGEST reasons email newsletters fail – is because they STOP writing new issues.
So – you must continuously curate and publish more newsletters. It's arguably the best way to grow, learn, and practice your craft.
You can establish yourself as a trusted source of information and keep your readers coming back for more. All you have to do – is continue delivering valuable content directly to your subscriber's inboxes.
Remember – curating newsletters involves carefully selecting and organizing relevant articles, journals, tutorials, blog posts, and other resources that align with your subscriber's interests and needs.
Writing a newsletter requires effort on your part! But – it's also a high-reward venture that delivers real-world value to your subscribers.
Remember to keep your newsletters fresh and diverse, offering a mix of informative articles, updates, exclusive offers, and engaging visuals.
Never stop searching for new content, tutorials, videos, and updates your audience would love to consume. It's your TOP job as a newsletter curator. 🙂
Creating a Curated Newsletter – FAQs
I'm not an email marketing newb. And this isn't my first newsletter barbeque! You also likely have many newsletter questions. No sweat. I have email answers. 😀
How Can I Promote My Newsletter?
Here are some effective strategies to help you promote your newsletter.
1. Opt-in form on your website: Add a prominent registration form on your website's homepage and other relevant pages. Make it easy for visitors to subscribe by requiring only essential information like their email address.
2. Buy advertising: Buy paid advertising on newsletter-friendly platforms like Udimi, Swapstack, or the Sparkloop Partner Program. Refind also has an excellent reputation for helping grow newsletters.
3. Content upgrades: Create valuable content upgrades, such as exclusive guides, checklists, or templates, that are relevant to your newsletter. Offer these upgrades to your readers in exchange for their email addresses.
4. Referral program: Create a referral program and reward anyone for referring others to your newsletter. Offer incentives like exclusive content, discounts, or entries into giveaways. SparkLoop, ReferralRock, and Viral Loops are three prominent newsletter referral apps to try.
5. Cross-promotion: Collaborate with other newsletter creators or bloggers in complementary niches by cross-promoting each other's newsletters. This mutual promotion can help you reach new subscribers.
6. Social media promotion: Leverage your social media platforms to promote your newsletter. Share teasers or snippets of your newsletters to generate interest. Pin a post on your social media profiles with a clear call-to-action to subscribe.
7. Create YouTube and TikTok Videos: Can you create YouTube or TikTok videos that your ideal subscriber might like? If so – it's an excellent way to promote your newsletter.
8. Guest blogging: Contribute guest posts to popular blogs or websites in your niche. Within your author bio, include a compelling call to action to subscribe to your newsletter for more valuable content.
9. Email signature: Add a link and a brief mention of your newsletter in your email signature. Every email you send is an opportunity to promote your newsletter to your contacts.
10. Pop-ups and slide-ins: Use well-designed pop-ups or slide-ins on your website to capture visitor's attention and encourage them to subscribe. Take care not to annoy users with excessive pop-ups. Sumo.com makes an excellent pop-up that works on nearly any website.
11. Collaborate with influencers: Partner with influential bloggers or industry experts in your niche. Offer them exclusive content or incentives to promote your newsletter to their audience.
12. Ask for shares: Encourage subscribers to share your newsletter with their networks by including social sharing buttons within your emails. You can also mention it directly and ask subscribers to forward the email to any potential prospects.
Remember, consistency and quality of content are key. Provide value to your subscribers consistently, and they will be more likely to share and recommend your newsletter to others.
What's The Best Way To Find Good Sources For My Curated Newsletter?
Here are some excellent ways to find reliable and high-quality sources.
1. Follow industry influencers: Identify experts and influencers in your niche and follow their blogs, websites, and social media accounts. They often share valuable insights, research, and articles related to your wheelhouse.
2. Explore academic journals and publications: Look for academic journals, research papers, and scholarly publications specializing in your niche. These sources often provide in-depth insights, studies, and data that can be valuable for your curated content.
3. Make a massive list: Write down the top 10, 15, 20, 50, or 100 blogs in your niche. Then, add them to your favorite RSS reader. Every time a new blog gets published – you'll be one of the first to know. 🙂
4. Sign up for industry newsletters: Subscribe to newsletters in your industry or related fields. These newsletters can inspire and provide curated content you can analyze and curate further for your newsletter.
5. Conduct advanced searches: Utilize search engines effectively by using advanced search operators like "site:example.com" to search within specific websites or "inurl:blog" to find relevant blogs. These search modifiers can help you find lovely and little-known sources or niche-specific content.
6. Utilize content discovery platforms: Use content discovery platforms like Feedly, Flipboard, or Pocket to discover and organize content from diverse sources. These platforms allow you to follow specific topics, websites, or blogs to receive relevant content suggestions.
7. Monitor social media: Follow relevant hashtags and accounts on social media platforms like Twitter, LinkedIn, and Facebook. Pay attention to industry discussions, trending topics, and popular articles shared by thought leaders in your field.
8. Join online communities and forums: Participate in online communities and forums related to your niche. Engage with the members, ask questions, and contribute thoughtful insights. These communities often share valuable resources and discussions that can be perfect sources for your curated newsletter.
9. Monitor Reddit and Quora: Search Reddit and Quora for good posts, updates, questions, or tutorials. Even a good question might serve as valuable content for your curated newsletter. (And if Redditors respond with good answers? So much the better.)
10. Monitor industry conferences and events: Stay updated on industry conferences, webinars, and events where experts share their latest insights and research. Many conferences offer recordings or slide decks that can be excellent sources for your curated newsletter.
11. Conduct surveys and interviews: Contact industry experts, thought leaders or your subscribers to gather insights through surveys or interviews. The data and quotes you collect are excellent content pieces for your newsletter.
12. Engage with your audience: Pay attention to the feedback, comments, and questions you receive from your existing subscribers. These insights can help you understand their interests and provide content catering to their needs.
Remember to research your sources. Consider factors like their authority, expertise, reputation, and the quality of their content before including them in your curated newsletter.
Should My Curated Newsletter Contain Editorial Commentary? Or Not?
Whether or not to include editorial commentary in your curated newsletter depends on your specific goals, audience, and the nature of your newsletter. Here are a few factors to consider.
1. Audience preferences: What do your subscribers want? Some subscribers may prefer a curated newsletter with valuable resources without additional commentary. Others may appreciate your insights and analysis alongside the curated content. Understanding your audience's preferences can help you decide whether to include editorial commentary.
2. Your preferences: Would you enjoy writing editorial comments in your newsletter? Or do you loathe the idea? Follow your email marketing gut. 🙂
3. Time and resources: Creating editorial commentary requires additional time and effort. Consider whether you can reliably provide valuable insights alongside your curated content.
4. Unique value proposition: Assess how to differentiate your newsletter from others in your niche. Providing editorial commentary can add a unique value proposition to your curated content. Your insights and perspective can help your subscribers better understand the content, connect the dots, or provide additional context.
5. Branding and personality: Including editorial commentary allows you to showcase your brand's personality, expertise, and voice. It can help humanize your newsletter and establish yourself as an authority in your niche. If injecting your voice is part of your branding strategy, then editorial commentary can be beneficial.
6. Content curation focus: Evaluate the nature of the content you curate. If your curated content is diverse, covers various perspectives, or aims to present a range of viewpoints, editorial commentary may not be necessary. However, if you curate content with a specific angle or theme, adding commentary can help tie the pieces together and provide a cohesive narrative.
You can also consider experimenting with different approaches, such as alternating between curated content-only issues and issues with editorial commentary, to gauge your audience's response and gather feedback.
How Can I Monetize My Newsletter As A Beginner?
Monetizing your newsletter as a beginner can be a rewarding way to generate income. Here are some strategies you can consider.
1. SparkLoop Upscribe: SparkLoop Upscribe is one of the best newsletter monetization methods for new newsletter publishers! It's a service that connects to your opt-in forms and promotes OTHER newsletters. You get paid for newsletter referrals. It's an excellent service.
2. Created a product: Create a product! You could create a book, a course, or a digital download. Creating a course is surprisingly easy. Check out my blog post that shares how to teach your first online course to learn how!
3. Affiliate marketing: Join affiliate programs and promote nifty offers or services your subscribers might enjoy. Include affiliate links within your newsletter. You can hopefully earn a commission for any purchases made through your referral links. Be genuine in recommending products and disclose your affiliate relationships.
4. Promote an online course: Platforms like Udemy and SkillShare have thousands of courses you can promote as an affiliate. The world of e-learning is massive. And I bet there are courses pertinent to nearly any niche.
5. Premium content or subscriptions: Offer exclusive content or a subscription-based model for your newsletter. Provide additional insights, in-depth analysis, bonus material, or early access to certain content for subscribers who pay a monthly or annual fee.
6. Sponsored ads or banners: Incorporate sponsored ads or banners within your newsletter. Ensure the ads are relevant to your audience and don't overwhelm the user experience. Platforms like Google AdSense or newsletter-specific ad networks can help you manage and place relevant ads.
7. Product or service offerings: Create and sell products or services that align with your newsletter's niche. Potential products can include e-books, courses, consulting services, or merchandise. Leverage your expertise and credibility built through your newsletter to attract customers.
8. Events or webinars: Host paid webinars, workshops, or virtual events for your subscribers. Offer valuable and exclusive content or opportunities for networking and learning.
9. Events or webinars: Host paid webinars, workshops, or virtual events for your subscribers. Offer valuable and exclusive content or opportunities for networking and learning.
10. Sell a solo ad: You can use a platform like Udimi to sell a solo ad. A solo ad means that you sell clicks. Most solo ads cost around fifty cents to a dollar per click. But – only sell solo ads if you can reliably send at least 50 or 100 clicks to your clients.
11. Donations or crowdfunding: If your newsletter provides significant value to your audience, consider asking for voluntary donations or setting up crowdfunding campaigns to support your work. Platforms like Patreon or Ko-fi can help facilitate this.
12. Partner with other businesses: Collaborate with complementary businesses or newsletters to cross-promote each other's products or services. Collaboration can include joint promotions, co-created content, or affiliate partnerships. Ensure that the partnerships align with your audience's interests and values.
Prioritize building a loyal and engaged subscriber base before focusing extensively on monetization. Be transparent, maintain the trust of your audience, and adapt your strategies based on feedback and the needs of your subscribers.
How Can I Get My First 50 Newsletter Subscribers?
Gaining your first 50 newsletter subscribers can be an exciting milestone. Here are some strategies to help you attract your initial subscribers.
1. Create compelling content: Your newsletter content comes first! Develop valuable content that aligns with your target audience's interests. Ensure your content is informative, engaging, and offers a unique perspective.
2. Encourage referrals: Once you have a few subscribers, encourage them to refer your newsletter to friends, colleagues, or social media followers. Offer incentives, such as exclusive content or giveaways, for successful referrals.
3. Buy a solo ad: Solo ads aren't usually the best traffic source. But for $50 to $100, you can get a solo ad of around 100 to 200 clicks. 100 to 200 clicks should be enough traffic to help give your list a starting boost! (Udimi is my favorite marketplace to buy solo ads.)
4. Promote on your website or blog: If you have a website or blog, utilize prominent and strategically placed opt-in forms to capture newsletter subscribers. Offer a clear value proposition and incentivize subscriptions with exclusive content, discounts, or free resources.
5. Use Twitter, Instagram, and Pinterest: Use your favorite social media platforms to promote your newsletter. Promote your newsletter signup page in ALL of your social media bios. Share snippets and highlights of your newsletter content to intrigue people and encourage them to sign up. Engage with your followers and network with industry peers to increase visibility and attract subscribers.
6. Promote on TikTok: TikTok has an excellent reputation for helping promote newsletters. Try to create a few videos pertinent to your niche. Advertise your newsletter and see what happens!
7. Guest posting: Write posts for popular blogs or websites in your niche. Include a call-to-action within the guest post to invite readers to subscribe to your newsletter for more related content. Guest blogging can help you tap into established audiences and gain exposure to potential subscribers.
8. Offer gated content: Create valuable resources, such as e-books, templates, or guides, and offer them as downloadable content in exchange for newsletter subscriptions. Gated content can incentivize people to provide their email addresses and join your subscriber list.
9. Collaborate with others: Partner with influencers, bloggers, or businesses in your niche to collaborate on content or host joint promotions.
10. Utilize email signatures: Include a link to your newsletter subscription page in your email signature. Your email signature can capture the attention of people you communicate with and encourage them to subscribe.
11. Try Swapstack Newsletter Affiliates: Swapstack Newsletter Affiliates is perfect if you have a marketing budget and want to buy email leads. They will connect you with newsletter writers willing to promote your newsletter. It's guaranteed email growth.
12. Attend events or webinars: Participate in relevant industry events, conferences, or webinars. Network with attendees and share information about your newsletter, highlighting its value. Promote your newsletter if the opportunity arises.
13. Engage with your audience: Actively engage with your audience through comments, social media interactions, and responding to emails. Building robust relationships and providing personalized attention can lead to word-of-mouth recommendations and increased subscriber growth.
Building a subscriber base takes time and consistency. Focus on delivering valuable content, promoting your newsletter through various channels, and engaging with your audience. Analyze your efforts and adjust based on what works best for your target audience.
Conclusion
Thanks for taking the time to read my comprehensive guide on how to build a curated newsletter from scratch.
I tried to cover everything – from selecting the right content to designing an eye-catching template and promoting your list.
Building a curated newsletter may seem daunting at first. But once you get your first few email subscribers and send your first issue, it becomes addicting.
And after a while – it becomes second nature.
If you have more email newsletter questions – then join my email newsletter. It's the best way to reach me.
Click here to join my legendary marketing newsletter. FOR FREE.
You'll get direct access to me – plus tons of bonus marketing goodies.
It's been around for years. And I'm not going anywhere.
I hope to see you there!
Cordially,
Mike D
MrComputerScience.com