AI-generated content has changed the world of self-publishing and newsletters like nothing else I've seen after blogging and studying computer science for years.
But – AI-generated content isn't perfect. And that's where this article comes in.
Let's brainstorm nine ways to improve AI content. We'll add unique stories, ensure grammatical and factual accuracy, and add some of my best real-world writing insights. And more!
9 Ways To Improve AI-Generated Content
The following methods will empower you to enhance any AI-generated content. And it doesn't matter what niche you use, what AI algorithm you try, or the style in which you write. These techniques will make your AI-generated content far superior – guaranteed.
1. Proofread The Content Using Grammarly
Grammatical accuracy is of utmost importance when it comes to publishing AI-generated content that is easy to read and also easy to understand. You can ensure the content flows smoothly and effectively conveys the intended message by proofreading the content a few times.
Proofreading for grammatical accuracy means using proper sentence structure, correct verb tenses, and appropriate punctuation.
Complex sentences can add depth and clarity to the content. However, it is equally important to include shorter, concise sentences to maintain reader engagement and avoid overwhelming them with too much information.
Paying attention to grammar enhances the readability of the content. It also establishes credibility and professionalism.
Proofreading also has another benefit that most amateur writers overlook. Proofreading and editing make the AI-generated content more unique.
So, remember to proofread and edit your AI content to eliminate grammatical errors and create a seamless reading experience for your audience.
(Because if your content is clunky – nobody will read it. And then your work never does anyone any good!)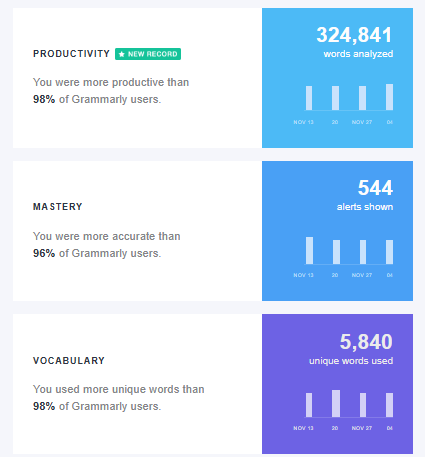 Check out my fierce Grammarly.com stats above. I'm consistently in the top 5 to 10 percent for vocabulary, mastery, and productivity. 🙂
2. Add Unique Stories
AI writing robots can write circles around you. But – one thing AI robots can't do – is honestly convey a story. Luckily – that's something you CAN do. 🙂
Incorporating unique stories into AI content is a powerful way to captivate readers and make the content more relatable. AI-generated content combined with your stories can evoke a strong emotional response, creating a deeper connection between the reader and the information presented.
Your stories can range from personal anecdotes to inspiring tales of triumph or even fictional narratives that engage the reader's imagination. Moreover, including real-life examples and experiences can further build your brand and enhance the credibility and relevance of the AI-generated content.
Using storytelling techniques in AI content adds a human touch and helps break down complex concepts into more digestible and engaging pieces of information.
As a result, your readers are more likely to retain the content, share it with others, and return for more.
So – don't publish the AI-generated content as-is. Let your AI content come alive with captivating stories that leave a lasting impression on your readers.
3. Fact-Check Every Sentence
I've watched in horror as fake editing gurus say it only takes five to ten minutes to edit an article. That's such hogwash! As someone who has edited millions of words, I can tell you that fact-checking takes MUCH LONGER than five minutes per article.
No matter how long it takes – fact-checking is a necessary step. And it makes your content far superior to anyone else's – especially since many writers are too lazy to fact-check.
Fact-checking involves meticulously verifying the sources, cross-referencing data, and scrutinizing the claims made within the content.
Editors without much experience make fact-checking sound easy. But – it's time-consuming, especially for longer, fact-laden articles.
This rigorous fact-checking practice may take hours – but it's a necessary step to fortify the reliability and trustworthiness of the content, ultimately enhancing its value to the readers.
PS:
It might be easy for pretend editors to show you their whimsical editing methods that only take five minutes. But remember – if you ever have LOTS OF READERS reading your content – they will GET ANGRY if your content has too many errors. So – never skip proofreading and fact-checking. It's essential – doubly so for AI-generated content.
PS – Join my epic marketing newsletter by clicking here. New newsletter subscribers get my best marketing presentations as a free bonus. 🙂
4. Add Real-World Examples, Case Studies, Or Success Stories
Another effective strategy to achieve a superior AI-generated article is incorporating real-world examples, case studies, or success stories.
Doing so helps your content seem more practical, personalized, and pertinent to you and your brand.
Real-world examples or experiences help illustrate concepts or ideas and can make the content more fascinating to read. It also lets you add insights and feedback.

Case studies provide in-depth analysis and insights into specific experiments or situations, allowing readers to understand and retain the subject. Case studies also make any AI-generated content seem less abstract.

Success stories showcase positive outcomes or achievements related to the topic, inspiring readers and highlighting the potential benefits. Hopefully, the success stories instill confidence in your readers.
Including these elements in AI-generated articles makes them more entertaining and enhances credibility and relevance. Any of these elements also skyrocket the article's uniqueness.
5. Seek Feedback From Readers
Modern content creators can obtain valuable insights and identify areas for improvement by seeking feedback. In other words – ask your readers what they think of your content! Encouraging readers to provide feedback fosters a sense of collaboration and involvement, making your readers feel like active participants in the content creation process.
My favorite way of getting feedback is to invite my email subscribers to reply to my emails. You can even automate the process – by adding a PS at the end of every newsletter. Ask your readers to send their feedback!
Through this reciprocal relationship, you can gather a real-world perspective and address any weaknesses or blind spots in the AI-generated content.
A word of warning! Opening a feedback loop can be risky if you are sensitive to pundits – because negative reviews and criticism can hurt! But it's arguably one of the best ways to ensure your AI-generated content remains relevant, valuable, and resonates with your target audience.
6. Always Use The Latest And Greatest AI Algorithm
AI algorithms change at breakneck speed. It seems like ChatGTP only launched a short while ago. But now – rumors of beefier and enhanced versions keep getting bigger and better. And they keep coming out faster and faster.
The newest content-generative AI algorithms can analyze vast amounts of data and generate high-quality, engaging content that resonates with readers. But no matter what year it is – the latest update is seemingly only around the corner.
So – keep your eyes peeled. Always check the newest AI bot updates to see if you can notice an improvement in content accuracy, prose, and style.
7. Collaborate With Subject Matter Experts
Want an easy way to enhance your AI-generated content? Ask other authoritative publishers to contribute to your article. Maybe they can review the article for accuracy. And in return, you can give them a backlink. Or they can answer a few prominent FAQs pertinent to your article's topic.
This collaborative effort can add depth and expertise to the AI-generated content. It can also help to build a strong foundation with the audience.
The subject matter experts can also bring a unique perspective, thereby upgrading the AI content to go beyond surface-level information and provide a comprehensive understanding of the topic at hand.
8. Incorporate Images, Videos, And Infographics
Incorporating images, videos, and infographics into AI-generated content helps enhance its visual appeal.
Images can help break up the text, making it easier for readers to digest the content.

Videos, on the other hand, can add dynamism and provide a more immersive experience.

Infographics are perfect for presenting complex data or concepts in a simplified and visually appealing format.
Combining these visual elements makes the AI-generated content more aesthetically pleasing and increases its shareability on social media platforms.
Moreover, incorporating visuals can help convey emotions and evoke a better response from the audience.
Want more marketing tips? Register for my FREE marketing newsletter. Subscribers can also REPLY and ask me anything. I always try my best to help. 🙂
9. Double-Check For Plagiarism. Always!
Most AI bots work by scanning the internet (or other knowledge archives) for content. The AI bots then aggregate, spin, and re-word the content they find in a clever, somewhat randomized way.
The only problem is that sometimes, the AI bots don't work as well as they should. And their randomization (re-wording) isn't always efficient.
In other words – AI content, from what I've seen, is almost 100% derivative. You must always check everything you publish using plagiarism tools like CopyScape.
You never want to rip anyone off – or steal their hard work – it's the GREATEST sin as a self-publisher!
So – always double-check for plagiarism. And – always cite your sources!
(You get good karma for sourcing other writers, bloggers, sources, journalists, and professionals – especially if you give them a backlink from your article!)
Improving AI-Generated Content – FAQs
I've been studying computer science and marketing since I was a kid. So – this isn't my first AI barbeque. 🙂 I've answered some of your top AI-generated content FAQs below. I hope they help!
1. Is Using AI-Generated Content Ethical?
AI-generated content has prompted a series of debates about the ethical implications. On one hand, AI technology increases efficiency, delivers unique data insights, and offers new possibilities for creativity. It provides opportunities for businesses to engage with their audiences in fresh, innovative ways, thus optimizing their market presence.
On the other hand, there are ethical considerations. One concern is the potential for job displacement, as AI can perform tasks traditionally completed by humans. Another is the question of authenticity. While AI can generate content, it doesn't possess the human touch – the capacity for emotion, empathy, and subjective experience. AI-generated content can lead to content that feels impersonal or lacks depth.
The final section of this debate focuses on information accuracy and quality. Despite advancements, AI algorithms can make mistakes, producing content that might be inaccurate or misleading.
Moreover, there are concerns about the potential misuse of AI-generated content to spread misinformation or create deepfakes.
So – there are undeniable benefits to AI-generated content. But, it is crucial to navigate its usage with a sense of ethical responsibility, constantly weighing the pros and cons involved.
2. Should All Bloggers Use AI-Generated Articles?
In my opinion – yes. Bloggers who want to compete MUST use AI-generated content these days. Because if they don't – their competitors will outwork them. (Sad, but true.)
That's why using AI-generated content in blogging is a topic that sparks a heated debate among content creators. Some argue that it saves time and effort, allowing bloggers to produce more content.
AI-generated articles can also be tremendously helpful when summarizing news or presenting factual information, as AI algorithms can quickly analyze and consolidate data.
However, other bloggers emphasize the importance of human creativity and personal voice, arguing that AI-generated content lacks the depth and authenticity that human writers bring.
Ultimately, whether to utilize AI-generated content in blogging should depend on each blogger's goals, style, and target audience.
3. What Are The Best AI Apps For Bloggers?
OpenAI's GPT-4 is one of the best, which has gained much attention for its ability to generate coherent and insightful content based on user prompts.
Another popular choice is Grammarly, which uses AI to enhance the quality of writing by suggesting improvements in grammar, style, and tone.
Additionally, tools like Bramework and Katteb can also help generate unique and engaging blog posts with the help of AI algorithms.
These apps offer convenience and efficiency to bloggers and content creators by automating the writing process and providing them with a starting point for their articles.
4. How Much Does AI-Generated Content Cost Compared To A Real-World Writer?
AI-generated content is generally less expensive as it eliminates the need for a human writer.
However, AI-generated content costs may vary depending on the complexity of the content and the level of customization required. And – also consider the editing cost.
Real-world writers may charge higher fees for their expertise, creativity, and time dedicated to crafting unique and quality content. Ultimately, the cost comparison between AI-generated and real-world written content depends on the specific project requirements and budget constraints. But generally speaking – AI-generated content is far less expensive.
5. Should Newsletter Writers Use AI-generated Content?
Yes, I think so. But – the answer isn't so clear cut. Newsletter writers face the challenge of consistently providing fresh, engaging, and relevant content to their readers. AI-generated content can make their job ludicrously easier.
Some newsletter writers argue that AI can revolutionize writing by generating content quickly and efficiently. AI-generated content can help writers save time and resources, allowing them to focus on other vital aspects of their work.
On the other hand, some of my IT friends could argue that AI-generated content lacks the creative flair and human touch that readers appreciate. AI content may also include factual errors – an unacceptable faux pas for newsletters.
Ultimately, whether or not to use AI-generated content in newsletters depends on the writer's goals, audience preferences, and the balance between efficiency and authenticity.
In general – I say use it. But – remember not to skip editing and fact-checking!
Conclusion
Enhancing AI-generated content holds immense potential for various industries.
AI can help generate high-quality, engaging content faster with algorithms and machine learning.

Speedy content creation can be especially beneficial for businesses looking to scale their content creation efforts or for individuals seeking to streamline their writing process.

Small business owners with tiny budgets arguably benefit the most from AI. Since now, they can publish content at a much higher pace.
However, it is critical to remember that AI is not ready to replace human creativity and expertise. While AI can assist in generating initial drafts or providing suggestions, human writers must review and refine the content to ensure accuracy, coherence, and a human touch.
If you enjoy my content, please join my newsletter by clicking here.
It's the best way to ensure you get my latest updates. And – new subscribers get a massive bundle of my best content.
Thanks for reading.
I hope to see you there!
Cordially,
Mike D
MrComputerScience.com