In this blog post, we're going to brainstorm the most important blogging fundamentals that have taken me countless years of arduous struggle to grasp. I've brainstormed and blogged for countless years on end exerting endless hours of grueling effort maintaining this blog and writing an endless stream of nifty content.
I've been managing this humble blog on a thrifty budget for years. I want to show you everything I know about creating and launching a blog without tech stress or spending too much.
I also want to share with you the best strategies and insights that I've learned after blogging for endless painstaking years. I hereby invite you to take advantage of my experience without any of the pain and anguish I endured.
I've studied and blogged for years. You take advantage and snatch everything I know in a matter of moments. Sound good? Then let's continue!
The Main Reason Why You Or Your Small Business Needs A Blog!
The biggest reason you should start a blog is that blogging is one of the most affordable ways to advertise your business. Even if you're flat broke, you can harness your passion, expertise, and desire to help your audience and create helpful and powerful blog content for your ideal and existing prospect.
Blogging can also help you with lead generation, sales, content marketing, storytelling, SEO, and branding. Blogging also rocks if you love to write! Doubly so if you have abundant expertise in your preferred niche or a strong desire to research powerful content ideas.
Launching a blog doesn't cost hundreds or even thousands of dollars. If you're on a budget, you can launch a halfway passable blog for a couple of bucks. NameCheap has hosting deals these days at just a few dollars per month. You can also pick a .com domain up for less than $10 these days if you look around.
Your Blog Is The Perfect Home Base For Your Business!
Blogging can bring a ton of marketing bang for your buck. Your blog serves as the home base for your business, books, courses, articles, blog posts, affiliate links, promotions, YouTube videos, podcasts, and anything else that your business offers.
Whether you're a plumber, a marketer, a pastry chef, a beauty blogger, an author, a teacher, an affiliate marketer, or if you run an eCommerce store, blogging rocks. I honestly believe that just about any small business can benefit from blogging.
A Lot Of My Friends Struggle With Launching Their Blog! Can You Relate?
A lot of my friends love the idea of blogging. However, they always struggle when it comes time to execute. Can you relate? Maybe you love the idea of sharing your fantastic ideas with the world, but when it comes time to act upon your desires you postpone or delay indefinitely?
Maybe you're not sure what topic your blog should cover? Or maybe you have no idea how to launch a blog from the tech side of things?
If you can relate to any of these hurdles, then we're about to tackle each of them so you can confidently launch a blog without any stress. Let's go.
How To Choose The Perfect Niche For Your Blog
Choosing the right niche of your blog is the most crucial decision you'll ever make as a blogger. It's a decision that can last you a lifetime.
A lot of bloggers shoot for profitable niches first. They eagerly crunch numbers and plan for gold right off the bat. It might be a good idea to consider your passion first. I'm not saying that trends and numbers are bad. However, just remember, that your blog is something that you put a ton of time into over years.
I've known countless bloggers who end up quitting their blog. They start their blog with all the motivation in the world. But, over time, their blogs don't grow as quickly as they want. As a result, they stop blogging. They get sick of writing about topics that they didn't like as much as they originally thought.
That's why I encourage you to choose a niche that you love. If you don't love your niche, then are you going to spend years of your life writing on that topic? Will you continually strive to research fantastic blog post ideas? Probably not.
Here's How To Make Blogging Fun And Not A Chore!
Remember that blogging is a long-term commitment. Never blog to get rich quick, or you'll almost always be disappointed. Instead? Choose a niche that interests you.
So, if you love marketing, small business, pets, beauty, travel, electronics, video games, cars, Jiujitsu, the ketogenic diet, cooking, or any topic? Then your decision is already done. Choose the niche that you love the most. That way, you'll have the passion, inspiration, and motivation to continue blogging over the long-haul.
Why on Earth would you create a blog and then quit the blog after a few weeks, months, or years? Why not strive to blog for a lifetime? That way, you can continually publish content. You can continually snowball awesome content, and hopefully, get more and more fans reading your stuff over time.
All the while, hopefully, you're building your email list, and a following of readers who love your stuff.
Here's Another Vital Blogging Question. What Does Your Prospective Audience Buy?
One of the coolest blogging exercises is to brainstorm different stuff that your ideal reader buys. This way, you can brainstorm future content ideas. You can also consider what types of reviews you could write for your audience that they might find helpful.
Whenever you choose a niche, always ask what your ideal audience buys. If you can pick a niche where your audience buys a ton of stuff, then that's certainly a good sign. That way, you can always think of cool products and services that you can promote, review, or share with your audience as an affiliate.
I'm in the marketing niche, so this is easy. Marketers spend a ton of money. That's one of the reasons why I love the marketing niche, muahaha. The marketing niche is a great niche to get into if you love marketing. Because there are countless small business owners and entrepreneurs who need marketing tools and training.
Let's spend a few minutes brainstorming about what different audiences might buy so you get a better idea of what I mean.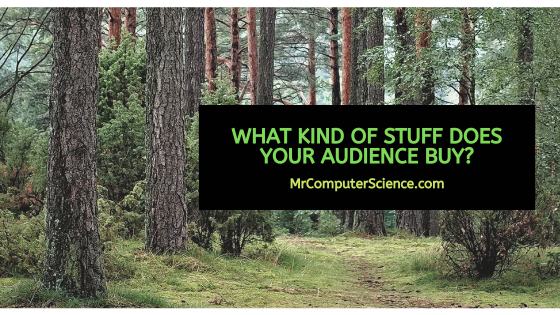 What Type Of Stuff Do Marketers And Small Business Owners Buy?
Blogging tools
Digital courses
Coaching
Consulting
Ghostwriting, SEO, and other services
Marketing software
Marketing books
Training bootcamps
Marketing summits
Let's look at a few niches as an exercise. Take the pet niche for example. The pet niche is massive.
What Type Of Stuff Sells In The Pet Niche?
Dog/cat medicine
Cat food
Cat toys
Dog food
Dog toys
Cat (and dog) costumes
Cat (and dog) brushes
Fish food
Fish tanks
Et cetera!
What About The Weight Loss Niche?
Diet Books
Diet Courses
Weight Loss Tutorials
Weight Loss Membership Websites
Health Food
Low Carb Food
Vegan Food
Recipe Books
Recipe Ingredients
Exercise Equipment
What About The Survival Niche?
Water filtering equipment
Vitamins
Camping gear
Self-defense training
Outdoor guides
MRE (meals ready to eat)
Survival guides
Seeds
Flashlights
Emergency kits
The more time you spend brainstorming about your ideal blog reader, the better! That way, it's elementary for you to brainstorm a nonstop list of fantastic content ideas. You can also ponder what types of products you could promote as an affiliate!
How To Write The Best Blog Post Content For Your Audience
One of the most popular questions that my friends and colleagues ask, is what should they write about on their blog?
I have some good news and some bad news. The good news is that there are a ton of free tools to help brainstorm a nearly-infinite amount of genius blog post ideas that your audience is dying to read.
The bad news is that it's elementary to get overwhelmed by all your choices. When you start to research using some of the widely available keyword tools out there, it's easy to amass hundreds or even thousands of blog post ideas very quickly.
Don't Get Overwhelmed. Here's A Great Way To Find The Best Blog Post Ideas And Content Possible.
Start by visiting Quora.com. Type in a keyword related to your niche. Quora then shows you the exact keywords that those in your niche ask. These are the exact types of blog posts you should write. Write blog posts that your prospective audience asks. These are the same types of questions that your ideal readers are typing into Google. This makes for perfect blog post ideas.
Maybe you could make a list of the top 10 keywords in your niche. Type those keywords in Quora. What are the top 10, 20, or 30 questions your ideal readers continually ask?
The genius part about this exercise is that these questions change in time. Therefore, studying the top questions that your ideal readers have is an exercise that will last forever and product countless content ideas over time.
That's because technology changes. The education, knowledge, and experience of your prospect change over time. Therefore, the answers and type of content that you create also changes over time.
4 Awesome Keyword Tools That I Use All The Time To Brainstorm Nonstop Blog Post Content Ideas:
UberSuggest – An amazing tool for uncovering endless amounts of keyword ideas
AnswerThePublic – Another fantastic tool for researching the exact questions that your prospects ask about any particular niche, keyword, or topic
Google Trends – One of my favorite tools for finding out which content ideas or topics are more popular and trend-worthy
Google Webmaster Tools – Arguably the biggest and best keyword tool on the planet from the world's largest search engine
How To Promote Your Blog Posts With SEO If You're Broke?
A colleague on Twitter once asked me how I promote my blog posts. To be brutally honest, I'm old-fashioned. I like to promote my blog posts with old-fashioned search engine optimization, content marketing, and email marketing.
Make no mistake. Content marketing for your blog requires a ton of work! One of my favorite SEO strategies is to create high quality and optimized content based upon the queries that your ideal reader asks.
A lot of bloggers also love to experiment with paid advertising. However, paid advertising is ridiculously expensive in some niches. If you went to an advertising network and asked for 500 unique (and targeted) visitors every month, that could easily cost a few hundred dollars, if not a few thousand dollars.
So, that's why I'm a huge fan of content marketing, blogging, and email marketing. It's because I love free SEO traffic. In my opinion, there's no easy way to get SEO traffic. You need to invest time creating awesome content that people love to read and share.
That's all the more reason why choosing the right niche is so important. If you love the topics that you're researching and writing about, then the elbow grease of writing likely won't seem so exhausting.
Why You Can't Outsmart The Search Engine Algorithms, And What To Do Instead
I've known so many smart bloggers over the years who try to rig the SEO game in their favor. People have been trying to outsmart search engines since day one.
The truth is that you can't outsmart the search engines. If you want to rank your content in search, there's no magic shortcut. You need to create high quality, well-written content that your ideal audience loves to read. So, that's exactly what I focus on creating. I try my best to create content that people read. That's how search engines know that your content is worth ranking. It's when people spend time on your blog reading your content.
I like to think of blogging as a game of chance. Every time I write a blog post, I never know how it's going to perform. I know this though. The more long-form content that you publish, the more chances you have for landing in the search engines and getting eyeballs on your content.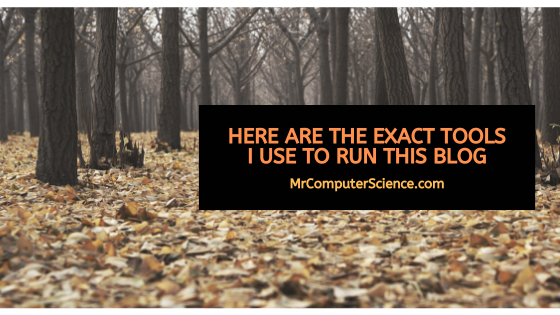 Here Are The Exact Tools I Use To Run The MrComputerScience.com Blog
# 1 – My Favorite Web Host That's Also Dirt Cheap
A lot of my friends aren't sure what a web host is or how they work. A web host is the storage area where your blog lives online. A decent shared web host will set you back roughly $50 – $100 per year.
For a web host, I use NameCheap. NameCheap is true to their name and they're very affordable. A lot of the big blogging gurus recommend BlueHost. I've used BlueHost too and they're great.
However, I like NameCheap a little more simply because Namecheap costs less money upfront. I've also put NameCheap through the gauntlet when it comes to tech support. Namecheap is always happy to help whenever I email them an annoying IT question at 3 in the morning, and I've never had a problem with Namecheap after blogging on their platform for a while.
# 2 – My Favorite Tool For Finding A Good Domain Name
A lot of my colleagues don't know the difference between a web host and a domain name. You need both to run an awesome blog.
A domain is your website URL. MrComputerScience.com is my domain name. You can find a domain name for about $10 per year, which is quite cheap.
I love to use a website called leandomainsearch.com to find a good domain name. You can type in any keyword you want, and the site produces a big list of available domains. Very handy!
# 3 – My Favorite Premium WordPress Theme(s)
A WordPress theme is the heart and soul of your blog. WordPress themes drastically change the way your blog looks, functions, and feels.
One of the biggest mistakes I made early in my blogging career was not choosing a quality WordPress theme. I blogged for years with themes that I was never happy with. I spent too much time fidgeting with my blog, and it was a huge distraction.
When you're not confident with how your blog looks and feels, it's nearly impossible to focus on creating awesome content.
There are dozens, if not hundreds of fantastic premium WordPress themes out there. My advice? Spend time choosing the theme that you like the most.
I'm a huge fan of StudioPress themes. I started using StudioPress themes years ago, and I haven't looked back since. I bought the premium package of StudioPress themes plus I get lifetime updates. The price was a few hundred dollars. However, I now get updates plus future themes, so for me it was a great investment.
# 4 – Why I Don't Use Many WordPress Plugins!
WordPress plugins add excellent functionality to your site. Plugins are easily one of the best features of WordPress, and they can help spruce your website up without any coding required. There are email list building plugins, social sharing plugins, affiliate marketing plugins, eCommerce plugins, sales funnel plugins, and more.
However, I also must warn you about WordPress plugins. Not all plugins are created equal.
You may also find, that the more plugins you use, the slower your website becomes. I'm not saying this to alarm you. I'm saying this because you should take care of what plugins you install.
Some plugins may become out of date and thereby cause security concerns for your blog. Whenever you install any plugin, make sure to read the reviews in the WordPress plugins section.
Also, check to see when the plugin was last updated. If the reviews are not stellar, and if the plugin was not updated in the last year? Then skip the plugin.
I take very close care when installing plugins. I advise you to do the same! Conduct due diligence and ensure that the plugins you install have a great reputation, or you may end up sourly disappointed.
Frequently Asked Questions:
I've been blogging for a super long time and have also brainstormed a ton with friends, students, colleagues, and like-minded blogging nerds over the years. Here are some of the most popular questions that you're likely to encounter during your blogging journey!
# 1 – I Don't Have Any Cash To Spare! Is There A Way I Can Launch A Blog Without A Budget?
Yes! While I don't think the 100% free blogging platforms necessarily grant as much freedom as a premium host, there are ample options to create a blog without spending a penny.
While I haven't experimented with free hosting in quite some time, I do recall using X10 hosting. X10 offers a 100% free hosting option that's perfect if you don't have much of a budget.
Here are some other economical platforms you can use to launch a free (or cheap) blog:
Wix
WordPress.com
Yola
Tumblr
Blogger
HubPages
Weebly
Medium
# 2 – Should My Small Business Launch A Blog?
Yes! I think that any small business can benefit from blogging. It doesn't matter if you're a dentist, a lawyer, an accountant, a freelance writer, an affiliate marketer, a teacher, or an author! One caveat here is that you must love to write. If you find writing to be an absolute chore? Then blogging is probably not your cup of tea!
If on the other hand, you have the soul and essence of a writer? Then blogging is easily one of your best avenues to share awesome content with your prospective (and existing) audience.
# 3 – What's The Cheapest Way To Promote Your Blog These Days?
Bloggers have a litany of nifty marketing tactics and strategies at their disposal. The biggest one that comes to mind is search engine optimization. If you love to write, and if you love to conduct research, then blogging is easily one of the smartest ways to promote your blog.
Furthermore, creating helpful blog content is arguably one of the cheapest ways that you can promote your blog. The only upfront cost is your research and writing!
# 4 – Does Email Marketing Work For Bloggers?
Absolutely! Think of it this way. If you're creating awesome blog content, and if your readers love your content, then what's the next step? Maybe your readers would also love to subscribe to your email newsletter! That way, you can keep your readers up to date with your latest guides, tutorials, blog posts, reviews, and other content marketing ideas.
Here are my honest two cents. Email marketing is arguably one of the most effective ways to interact with your customers, buyers, students, readers, and fans. Another huge benefit regarding email marketing these days is that the cost has lowered dramatically over the years. Email marketing is dirt cheap! You can easily find a free (or cheap) email autoresponder that can help you to jumpstart your email marketing without any tech stress! MailerLite, and MailChimp both come to mind.
# 5 – What's The Best Blogging Platform For Newbies?
I'm a big fan of WordPress! I practice what I preach. MrComputerScience.com rocks WordPress going strong for a while now. So, why do I love WordPress? Here's why. WordPress is massively popular. As a result, you'll find an abundance of nifty and cool themes and plugins. There's also a ton of support materials on WordPress since it's so popular.
The best part about WordPress is that you can create much more than blogs. You can also create membership websites, eCommerce websites, landing pages, and other marketing pages using plugins or special themes.
You also have plenty of other blogging platform options. However, I'm a huge fan of WordPress. I've used WordPress for many years, and it's so fantastic that I've never had a reason to look elsewhere!
# 6 – How Much Does WordPress Cost?
WordPress is free to use! However, there are costs associated with launching a blog. For example, you'll need a domain and hosting at a minimum. You can usually find a cheap shared host and a cheap domain for less than $100 per year if you look. I host MrComputerScience.com for probably less than $100 per year. Which is dirt cheap!
I've also found 100% free web hosts that work. However, please conduct your research and due diligence if you decide to experiment with free hosts! As you know, few things in life are truly free.
There are also other premium costs that you may encounter when blogging. Premium themes, premium plugins, paid advertising, upgraded web hosts, encryption certificates, and other premium services come to mind.
# 7 – What's The Best Premium Web Host For Blogging?
There are so many affordable web hosts these days. NameCheap, HostGator, Bluehost, and GoDaddy are some of the most popular web hosts. Either of these web hosts can easily handle your WordPress blog without stress.
I would advise you to choose a web host with a popular name. That way, you know that they're at the very least transparent and capable of hosting your website without any downtime, stress, or shenanigans!
How To Go Forward And Launch An Amazing Blog That Will Last You A Lifetime
I want to stress that blogging isn't a guarantee. I've been blogging for years and I'm not a famous guru. However, I love to blog, and I hope that you had fun consuming this content.
But, before you go, a final warning.
Blogging requires effort, passion, and a love of writing. Blogging also requires a strong desire to help your readers.
So, never choose a blog niche for the wrong reasons. Choose a blog niche that you love.
Once you have an amazing blog niche in mind, then spend some time researching. Spend as much time as you need to study your ideal end-user. Make a list of the top 10, 20, or 30 questions that your ideal prospects always ask.
Use tools like UberSuggest and AnswerThePublic to help figure out what your ideal prospects are asking and typing and searching for. Then, brainstorm awesome content ideas that help to answer those questions.
If that process sounds exciting, and if you love to write, then I'm confident that you'll love to proceed and launch an amazing blog.
How To Obliterate Any Tech Struggles When Launching Your Blog
The tech side of things is simple these days. Back 10 years ago, launching a website was difficult. These days, it's simple.
Pick an awesome domain that you like. Register the domain and blog on NameCheap, BlueHost, Host Gator, or any other web host that you like.
After that, installing WordPress is simple. Most decent web hosts enable you to install WordPress with the click of a button. If you're not sure, ask your preferred web host before you register. If the support is any good, they'll reply and let you know how to install WordPress without fuss. If the support ignores your question? Then find another web host!
Once WordPress is installed, you need to spend some time examining the different WordPress themes. Themes drastically alter the way your WordPress blog looks and feels. Choose a theme that you love. I'm a huge fan of StudioPress. However, there are other themes available for bloggers of all varieties.
After you have a theme set up, now comes the work. The real passion. Now comes the time to spend time writing, blogging, and researching your end-users.
If you love to write as much as I do? Then blogging is a worthy exercise with a ton of benefits. I hope that you have fun on your blogging journey!
Remember, I'm always around if you encounter any questions.
Also, I'm going to create MORE content in the future about how to promote your blog posts. Blog promotion is a huge deal, so I hope that you look out for that content.
Thanks for reading!
Please have a great day!
Mike "The Blogging Newb" DeVincent
MrComputerScience.com