Whether you're a small business owner or a nerdy marketing geek who fancies writing, there's never been so many enticing reasons to launch a blog on WordPress. The world is yearning for your fascinating experience, tutorials, and guidance! What better way to express such than by publishing fantastic blog content regularly? That said, launching a blog is a ton of work and it might seem like a daunting task. Can you relate?
That's why I'm excited to share this blog post with you. I've been blogging on this humble (yet marvelous and stylish) MrComputerScience.com blog for many years.
I've put an abundance of consideration into the philosophy and science of blogging. That's why I'm unfathomably delighted to share this blog post with you. Doubly so if you've fought to get your blog up and running. I'm a nerdy IT geek with bounties of writing and blogging experience. Who better to help you? Let's get started.
We're about to brainstorm how you can launch a blog on WordPress in 7 uncomplicated steps – without any of the technical kerfuffles or intricate sophistry!
How To Launch A Blog On WordPress Successfully Without Stress In 7 Simple Steps
Step # 1 – Here's How You Can Effortlessly Choose Your Ideal Blogging Niche When You Launch A Blog On WordPress
Step # 2 – My Best Tips For Choosing The Perfect Domain Name For Your Blog Launch
Step # 3 – Here's The Exact WordPress Blog Host That I Use That's Super Affordable And Offers Phenomenal Support
Step # 4 – Here's How To Launch An Email Newsletter For Your Blog Without Paying A Single Penny For Email Software
Step # 5 – Here's How To Effortlessly Write Your First Blog Post Idea Without Stress Or Tension
Step # 6 – Here Are 7 Elite Affiliate Programs For Bloggers And Email Newsletter Publishers Alike
Step # 7 – My 2 Best Tips For Promoting Your Blog Even If You Don't Have A Big Budget
Here's Why I Love WordPress Blogging More Than Ever And Why Your Business Needs To Launch A Blog On WordPress Immediately!
I'm a desirous writer. I love to spend hours writing every day. I have the spirit and disposition of a writer. Do you? If so, then WordPress is one of the most fashionable companies, services, and tools that you'll ever use. Elegantly coded and opensource, WordPress is a writer's dream. WordPress also comes in a variety of flavors and is also simple to use. That's one of the principal reasons that I recommend WordPress to all prospective bloggers.
Before We Get Started I Must Profess My Adoration For WordPress Blogging In Its Purest Form
Blogging has a ton of benefits. If you're a small business owner, then blogging is a colossal method to help spread the word about your business! If you blog adequately and with sufficient SEO keyword research, blogging can also help your business and website get found in the search engines.
The best thing about WordPress is that it's free to use. The only thing you require to start with WordPress is a host and a domain name.
But, maybe you've encountered a few roadblocks when trying to launch a blog on WordPress? If so, I'm about to help. Let's take a much more devoted look into the 7 step process to help launch your WordPress blog without angrily banging your keyboard with contempt!
Still Not Convinced Why You Should Launch A Blog On WordPress?
If you're not quite sure if you should launch a blog on WordPress, or if you're still on the fence, then I invite you to brainstorm 10 compelling reasons why you should start a WordPress blog today! We'll brainstorm 10 of the most compelling reasons and benefits that should allure you into the gorgeous and beautiful world of WordPress blogging!
If you agree that blogging rocks, and if you want to start today, then continue reading for the straightforward 7-step process for WordPress blog launching below.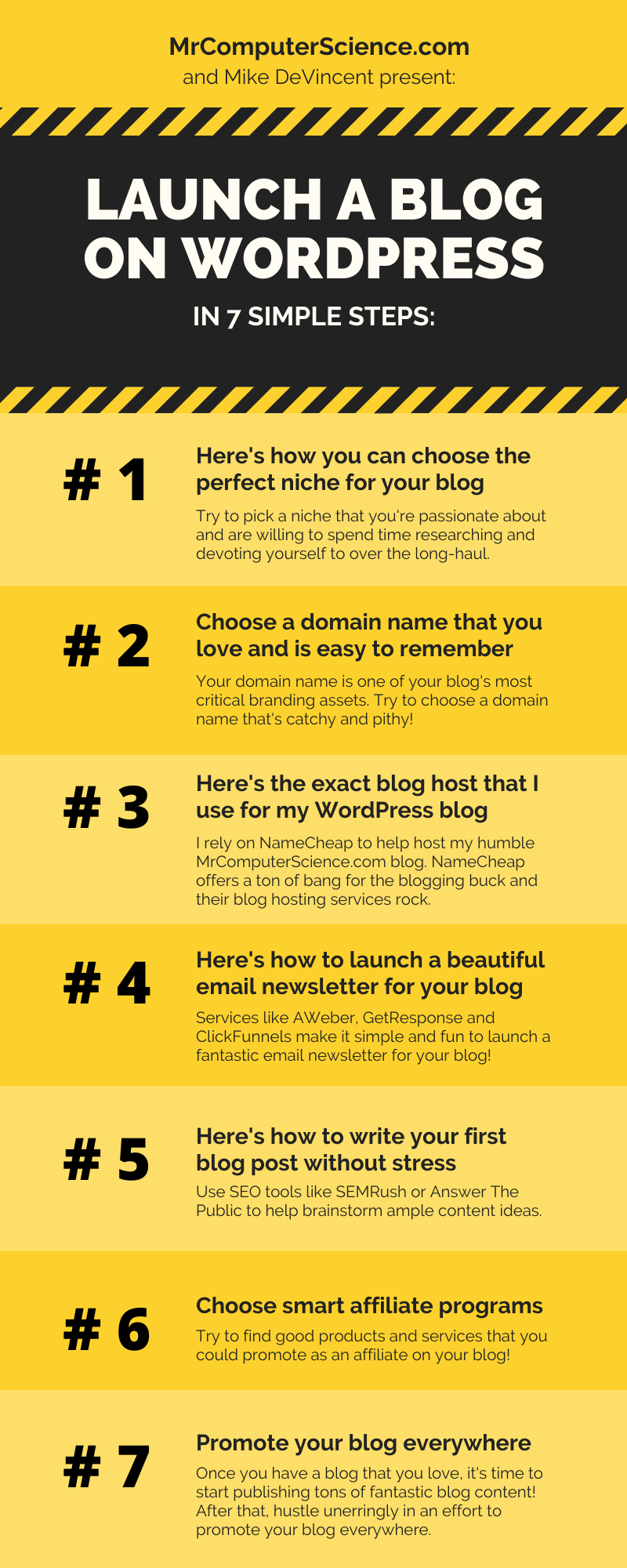 Step # 1 – Here's How You Can Effortlessly Choose Your Ideal Blogging Niche When You Launch A Blog On WordPress
One of the most profound choices you'll make as a blogger is the niche of which to write about in your blog. I've addressed this topic at length with fellow bloggers, colleagues, peers, students, and friends over the years.
One question is common among prospective bloggers. Should you write about topics that you enjoy, or match the popular culture and write about topics that are hot at the moment? On one hand, your proposed blogging niches (and topics) should have at least some interest and popularity. You can use tools like Google Trends or UberSuggest to test for the demand or popularity of virtually any niche or keyword.
Is Popularity Everything For Your Blogging Niche?
Popularity isn't everything. Have you ever known a blogger who failed, or stopped writing due to disinterest? I've heard of several. Therefore, my proposal to you, and my advice is simple. Write about the topics and niches that you relish. Life's too brief to write about topics that you don't dig sharing with the world.
Also consider, that as a blogger, you have a long list of obligations. Blogging isn't all fun and games, and blogging is tough! It's not adequate to merely adore and cherish the topic about which you write. A copious quantity of research, development, study, and devotion is required on your part – over the long haul if you wish to continually create exciting and useful content in your niche.
Therefore, when choosing a blogging niche, make sure to choose something that you could see yourself covering and writing about now, five weeks from now, and hopefully, five years from now! For example, I'm a huge fan of technology, business, writing, blogging, and marketing. I could write about these topics hourly with pleasure! Can you say the same about your prospective niche? Food for thought.
Need More Brainstorming Power? Here's A Short List Of My Favorite Blog Niches For New WordPress Bloggers!
Marketing Blog
Fitness Blog
Gardening Blog
Relationship Coaching Blog
Electronics Blog
Business Software Blog
Book Review Blog
Pet Blog (Dogs/Cats/Bearded Dragons/Fish Et Cetera)
Recipe Blog
Money-Saving Blog
Want To Brainstorm More Blog Niche Ideas For New WordPress Bloggers In Superior Detail?
If you wish to brainstorm more about blog niches, I recently compiled a list of my top 10 favorite blog niche ideas for new bloggers. I detail 10 of my favorite blog niches and also go into detail as to why I think these topics are cool. I hope you enjoy!
Step # 2 – My Best Tips For Choosing The Perfect Domain Name For Your Blog Launch
All websites have a domain name. A domain is the web address that allows your readers to find you online. You can't launch a blog on WordPress without a domain name! For example, my blog's domain name is www.mrcomputerscience.com. A domain name is one of the most important parts of your blog, and plays a significant role in your blog's brand!
One of the most frustrating things that you may encounter as a new WordPress blogger is that finding a domain is trickier than it might appear at first. You'll notice that the majority of cool .com domain names are already taken.
Luckily, there are a few occulted (meaning hidden) tips to help you find a cool domain name. First, there are domain auctions and domain marketplaces. Domain auctions (and marketplaces) allow you to hunt for recently expired domains, premium domains, and domains that are up for sale via one means or another. Domain auctions can indubitably cost a lot more cash than traditional means of domain purchasing, so I don't recommend them for entry-level WordPress bloggers that much. However, they are fun to consider and mayhaps enthralling if you find a domain that you really (really really) want.
My Favorite Website To Help Find Your Perfect WordPress Blog Domain Name – Revealed!
One of my favorite methods to find a cool domain name is by using a website called LeanDomainSearch. LeanDomainSearch allows you to enter any keyword and then search available domains using that keyword. LeanDomainSearch rocks if you wish for your domain to contain a keyword of your choice. For example, if you want your blog to contain the word "blogging", "blogger", or "diamonds", you can enter those keywords and then get a big list of available domains containing keywords of your desire.
Another option is to use the domain search tool of whichever domain registrar your choose. For example, my preferred web host has a nifty domain searching tool that makes finding an available keyword simple.
One final tip is to consider different domain extensions. There are tons of domain extensions available which can unquestionably make it more straightforward for you to find a satisfactory domain name.
Here's A List Of Common Domain Extensions:
.com
.org
.net
.co
.us
.info
.xyz
.ly
This Tiny Domain Extension List Is Helplessly Incomplete!
Don't let this tiny list of common domain name extensions fool you. There are countless hundreds of domain extensions and I discover more all the time. This might seem puzzling at first, but the wide choice of domain extensions is a healthy thing for new WordPress bloggers because it gives you more extended domain options.
Step # 3 – Here's The Exact WordPress Blog Host That I Use That's Super Affordable And Offers Phenomenal Support
If you want to launch a blog on WordPress, one of the first things you need is a decent web host. I'm a shameless NameCheap fan. NameCheap rocks! NameCheap is my favorite web host and it's the host that I've used to help serve MrComputerScience.com to countless thousands of amazing readers from all over the planet for several years.
NameCheap makes installing WordPress a breeze. From within your NameCheap cPanel (control panel), you can install your first WordPress blog with a few clicks. So, even if you're not the most technically savvy, NameCheap makes it straightforward and painless to get your first WordPress blog installed and running without a hiccup.
Once your WordPress installation is online, then it's straightforward to begin adding your WordPress themes and customizing your blog to your liking. If you encounter trouble during setting up your WordPress blog, contact NameCheap for help. NameCheap tech support is also top-notch and I've never had to wait long whenever I contact them for support (often at odd hours.) As a dedicated IT nerd and someone who has worked IT in the past, I'm proud to say that NameCheap's support is on point and reliable.
It's also prudent to note that WordPress.com offers freemium WordPress blogs without any cost! Of course, WordPress.com also offers premium upgrades for a slight fee. Advanced WordPress.com features throughout their various premium plans include enhanced design tools, Google analytics, CSS customizations, additional storage, custom plugins, et cetera. However, if you're short on cash, you can get started on WordPress.com without payment – which I love since these days, money is tight for nearly all bloggers!
Why I'm A Cheapskate Blogger And Why I Don't Like To Pay Much Cash For Blog Hosting!
The main reason I'm a cheapskate is that, in my opinion, many small business owners and bloggers do not last! Business is tough these days! In my opinion – the economy is fierce. That's why I try to put every advantage in my corner. One advantage I like to have is an affordable web host that is not a strain on my humble (thrifty/meager) lifestyle.
These days, money is tight! Can you relate? If so, then why not consider keeping the cost of your blog as low as possible? NameCheap offers commendable WordPress hosting for a couple of dollars per month. I think I usually pay around $75 – $150 per year for WordPress blog hosting via Namecheap. That's affordable, even for a stingy cheapskate like me!
Another thing I admire about NameCheap is that they offer free "whois protection." In case you don't know, when you register a domain name for your blog, other people can see the physical postal address of the person who registered the domain by default by doing a domain whois search. In other words, if you register a domain name, strangers can see your postal address and your full name as plain as day if they know where to look. Whois protection (also known as whois privacy) makes it so your information is hidden from the public eye, which is a big deal and helpful if you value your privacy as a blogger!
Here's How NameCheap Can Help Your Blogging Brand If You Launch A Blog On WordPress!
Another nifty feature of NameCheap that's worth noting is their logo maker. The Namecheap logo maker app uses fancy AI (artificial intelligence) to help automatically generate an array of snazzy-looking logos for your business. In all seriousness, I experimented with the app and thought that it's neat and worth a look if your blog or business needs a fancy logo.
The NameCheap logo app is worthwhile if you want to take your blog's brand to another level and it's cloud-based so it's easy to use across devices without stress. If you're terrible at graphic design, or simply wish to have a ton of fun brainstorming logo ideas, the logo app can help you create a ton of delightful variations to help customize and spruce up your brand.
The way the app works is simple. You choose a few selections and variations based upon your preference, and then the app generates a massive array of logo suggestions based upon your input. The logos look stylish, and there are many suggestions so you have numerous chic logo ideas to experiment with and consider.
Step # 4 – Here's How To Launch An Email Newsletter For Your Blog Without Paying A Single Penny For Email Software
Now that your blog is up and running, there is one significant "blog supplement" that I prescribe for all novice bloggers. That supplement is an email newsletter. Email newsletters are one, in my opinion, of the most dependable ways to enhance your blog and help skyrocket your website traffic, authority, amplification, and your blog's influence.
Email marketing is one of my favored methods to promote my blog posts. Indeed, I'm also an immense fan of SEO, however, email marketing is irreplaceable. The best part about email marketing is that these days you can easily begin an email newsletter with much less technical know-how than you might imagine.
The days of scrounging the internet for SMTP servers and trying to find a complex email marketing solution are over. Rather, you can use a reliable email marketing tool without breaking the bank.
If you're on a total "zero dollar" budget, I encourage to to check out MailerLite or Mailchimp. Both offer free starter plans so you can launch an email newsletter for your WordPress blog without breaking your bank.
You also has lots of other options when launching your email newsletter.
Here Is A List Of Some Famous And Fantastic Email Marketing Tools To Help Launch Your Email Newsletter:
AWeber
SendPulse
GetResponse
Constant Contact
ClickFunnels
MailerLite
Mailchimp
The Importance Of Your Lead Generation Funnel And Your Lead Magnet
If you're new to the world of blogging, then please never fall into the tragic trap falsely believing that successful email newsletter publishing and blogging are simple. Email marketing, just like blogging, requires tons of discipline, resolution, expertise, and legwork!
That's why it's necessary to examine two email marketing and blogging essentials. Your email newsletter's lead generation funnel and lead magnet!
Your lead magnet is the incentive that enchants and attracts your blog reader to join your email newsletter in the first place.
Your lead capture page and your lead generation funnel are the collections of pages and automation followup sequences in place to help promote your business. A lead generation funnel and a proper followup campaign can also help develop rapport, introduce yourself, share transcendent tutorials or brand stories, and to build healthy karma with your audience.
If you wish to brainstorm more about various funnel ideas for bloggers, then I wrote an epic guide all about sales funnel ideas for bloggers using WordPress. You'll learn about 5 of my favorite marketing funnel ideas attractive for bloggers and those who love to write!
How Can You Advertise Your Email Newsletter With Your WordPress Blog? Here Are A Few Clever Ideas!
When you have a serviceable lead capture page or lead generation funnel up and running, then you can begin advertising your lead magnet throughout your blog posts!
Try your ablest to include calls to action within your blog posts. Let your blog readers know that you have an email newsletter and also try your fittest to promote your lead magnet everywhere on your blog!
Many prominent WordPress themes allow you to insert banners within your sidebar widget. Your WordPress sidebar widget serves as one of the prime pieces of real estate to help build your email list! Other WordPress themes allow you to insert banners after your blog posts, which is one of my favorite features of StudioPress themes, which I use here on the humble yet luxurious MrComputerScience.com blog.
Step # 5 – Here's How To Effortlessly Write Your First Blog Post Idea Without Stress Or Tension
I'm the first guy to admit that blogging is tough. One day you'll fancy writing for the undivided day, and the next thing you know writer's block has mercilessly snagged each measure of enthusiasm and creativity that you possess. Your first blog post can seem especially daunting! Have you ever felt frustrated when gazing back upon a blank notepad? The blinking cursing staring back into your once-starlit eyes, almost flouting your lack of progress?
That's why I'm delighted to share my best blog post brainstorming methods with you in a moment. I'm always trying my utmost to develop innovative techniques to help conjure consistent blog post ideas. The survival of this very MrComputerScience.com blog depends upon a fresh stream of blog content!
SEO And Keyword Tools Are A WordPress Blogger's Best Friend!
The good thing is that writer's block is ludicrously straightforward to abolish these days. Fortunately for you, SEO tools like SpyFu, SEMRush, Answer The Public, and Google Trends provide an unforetold litany of incredible blog post ideas that can last you a lifetime.
Also, consider your personal experience. What are some of the most significant acumens you have relevant to your niche? These topics can help to make astounding blog post conceptions.
A Genius Blogging And Creativity Insight From A Seasoned WordPress Blogger!
One thing I've learned as I get more blogging experience is to write down blog ideas as soon as they come to you. I'm madly in love with blogging here on MrComputerScience.com, so I'm always thinking about new blog post ideas. The dilemma is that sometimes I think of a wonderful blog post idea that I want to write, only to forget the idea moments later.
Therefore, I propose that you write down your blog post ideas as ideas come to you, or you gamble squandering your valuable brainstorming ideas before you can capitalize upon and write them! Keep a journal of blog post ideas whenever creativity strikes, so you can tap into this tremendous wellspring of creativity whenever the impulse to write strikes.
I love to keep a Microsoft Excel worksheet in the cloud so I can easily access the spreadsheet and add blog post ideas as I think of them. Sometimes I'll brainstorm for hours and think about 10, 20, 30, or even 100 blog post ideas that I would love to produce! That way, whenever the inspiration comes and I want to write a new blog post, I can promptly and comfortably reference my "big list" or potential blog post ideas and write like crazy!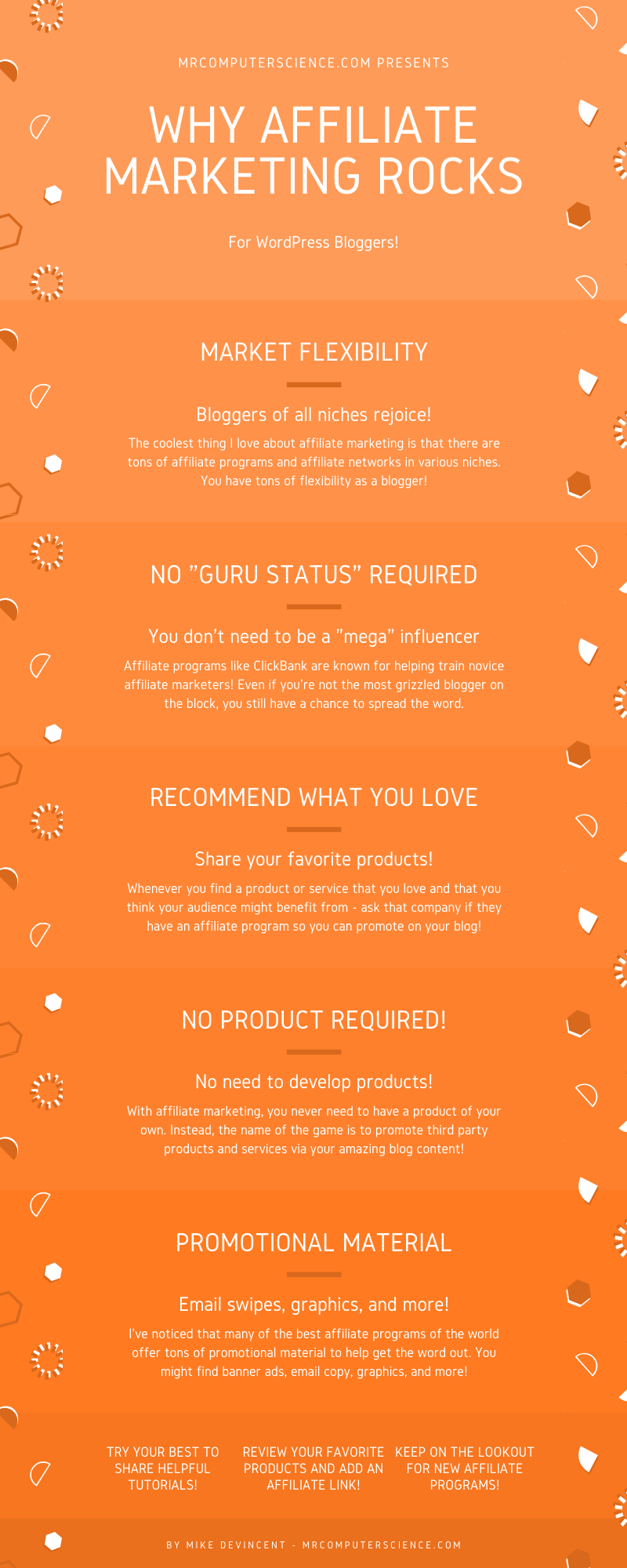 Step # 6 – Here Are 7 Elite Affiliate Programs For Bloggers And Email Newsletter Publishers Alike
I want to share 7 fantastic affiliate marketing programs for bloggers. But first, I need to interpret what I signify by affiliate marketing for those friends and readers of mine who are not 100% familiar with the concept of affiliate marketing.
A lot of my best friends and colleagues adore the idea of launching a blog on WordPress. Maybe they want to document their next holiday vacation or cross country adventure. Or, maybe they want to bestow their best recipes, food photos, and diet tips with the world. The concept of distributing their creative energy is exhilarating and exciting! However, one thing that several prospective WordPress bloggers overlook initially is how they can potentially monetize their WordPress blog. Affiliate marketing is one of the methods I'd love to talk more about.
Don't take me wrong. I don't want you to think that you can start blogging and instantly start rolling in affiliate marketing commissions! I continually emphasize that blogging requires an abundance of hard work, education, research, development, grit, a never-quit attitude, plus a ton of talent and luck!
Here's Why I Love Affiliate Marketing For When You Launch A Blog On WordPress!
When you first launch a blog on WordPress, your audience isn't going to be that impressive, right? That's why I love affiliate marketing for bloggers.
You don't need an enormous audience to start affiliate marketing. Everyone knows that big "paid sponsors" only want to work with well-known influencers who have a massive audience. Affiliate marketing is different. Many affiliate programs welcome newcomers and novice, WordPress bloggers. Plus, there are affiliate programs in all kinds of niches and markets. Whether you want to sell software as a service, or baked cookies, there are ample affiliate programs to the rescue!
Here's A List Of Some Of My Favorite Affiliate Programs For Bloggers:
# 1 – ClickBank
# 2 – ClickFunnels
# 3 – AWeber
# 4 – Udimi
# 5 – Walmart
# 6 – SkillShare
# 7 – Udemy
Let's Examine These 7 Elite Affiliate Programs For WordPress Bloggers In Much Closer Detail!
Let's set aside a few moments to wargame and analyze more about my favorite affiliate programs for WordPress bloggers and also why the following affiliate programs rock! Just to be clear, these are in no particular order and I think that all of the following affiliate programs rock.
# 1 – The ClickBank Affiliate Program
ClickBank is a thorough affiliate marketplace packed with brilliant marketing products and services that you can promote as a WordPress blogger.
ClickBank also has a premium training program entitled ClickBank University that is phenomenal if you wish to learn more about affiliate marketing, or product development for that matter.
After you initially launch a blog on WordPress, you won't have many visitors. It's tough to attract those high name sponsors if your website is brand new! That's why ClickBank rocks for novice WordPress bloggers.
ClickBank rules because they happily work with, train, and accommodate newcomer bloggers who wish to learn affiliate marketing. Since ClickBank helps accommodate novice bloggers, and they have a reputation for doing so, they earn serious credit in my book and should be one of your top considerations for affiliate marketing. My hat's off to ClickBank! Hear hear!
ClickBank is also, to my knowledge, one of the original affiliate programs for bloggers that comes to mind. ClickBank has been around since 1998 which means they've been online for a ludicrously long time! ClickBank boasts a fabulous collection of products for bloggers to promote in across an array of niches.
Whether you blog about internet marketing, finance, weight loss, pets, self-preparedness, self-help, or relationships, there are plenty of popular ClickBank products that your audience may be interested to learn more about and consider.
# 2 – The ClickFunnels Affiliate Program
The ClickFunnels affiliate program rocks if you're a WordPress blogger who writes about business software, sales funnels, online marketing, copywriting, self-publishing, or other small business-related topics.
ClickFunnels has a plethora of products that you can promote, and the ClickFunnels product itself is perfect for a variety of small business owners who wish to sell their products online or generate leads.
One of the primary reasons that I'm an outspoken fan of the ClickFunnels affiliate program is that they also boast some of the best marketing training on the planet, in my opinion. If you fancy to brainstorm all things marketing, and if you want to surround yourself with an assemblage of well-respected and accomplished marketing experts, then you can't go wrong with the ClickFunnels affiliate program and their neighborly community.
# 3 – The AWeber Affiliate Program
If you launch a blog on WordPress, AWeber is one of the coolest tools that can help build your email list! That's why you might also consider referring your blog readers to try AWeber as well.
I want to go on record and let you know that I've used AWeber for many years. I love AWeber! AWeber is one of my favorite email marketing tools. They help me to automate my email marketing newsletter so that I can configure everything once, and then let my marketing newsletter run on near-autopilot. I'm a proponent and follower!
AWeber also has a cool affiliate program where they share recurring commission for each qualifying referral that registers to AWeber via your affiliate link.
If you blog about email marketing, self-publishing, small business owner related content, or stuff along those lines, then your audience might appreciate learning more about AWeber.
# 4 – The Udimi Affiliate Program
Udimi is the world's premier solo ad directory! Solo ads are one of the coolest ways that you can generate leads and promote your email newsletter if you are in a mainstream niche. I emphasize the mainstream niche aspect here because if you're in a very narrow, geo-specific, or tiny niche then avoid solo ads!
Udimi also sports an amazing affiliate program where they offer recurring lifetime commission on your qualifying referrals. If your blog talks about lead generation, email marketing, email list building, affiliate marketing, or other internet marketing related products, then it might behoove you to familiarize yourself with the Udimi affiliate program!
# 5 – The Walmart Affiliate Program
Walmart is one of the most popular stores in America and they have a ton of products extending from electronics to clothing! But, did you know that Walmart also has a nifty affiliate program that you can join?
If you blog about any type of topic where there are ample physical products or eCommerce products that you could refer to, review, and write about, then consider the Walmart affiliate program as a top choice.
The central thing I love about the Walmart affiliate program is that they have a reputable name brand that your blog readers likely know and trust – so you can be proud to refer your beloved and hard-earned blog readers to a big, successful, and reliable brand that you can stand behind and endorse without hesitation.
# 6 – The Skillshare Affiliate Program
Skillshare is one of the most fashionable online learning platforms and distance education websites on the planet! As someone who adores and cherishes the world of online learning, I can't speak highly enough about the power and beauty of the Skillshare affiliate program. You can potentially earn commissions by referring your blog readers to enroll in Skillshare's massive library of digital courses! Sounds cool, right?
The coolest thing that I appreciate about the Skillshare affiliate program is that the courses are high-quality and fashionable. There's also nearly-endless courses and topics to choose from to help accommodate every style of blog audience imaginable! Whether your readers want to learn how to program with Python, how to cook delicious recipes, how to practice various arts and crafts, or how to design amazing graphics from scratch, Skillshare has your audience covered – in style!
# 7 – The Udemy Affiliate Program
Udemy is another famous learning platform that I adore and respect a great deal.
I love Udemy because they make learning easy for students spanning across every junction of our gorgeous planet and students from all walks of life. Udemy rocks!
Another reason Udemy rules is because they advertise a nifty affiliate program that you might want to learn more about and consider as a blogger. I think that our planet's economy is moving more toward distance education and online learning. For that reason, I contend that digital course marketplaces make for some of the most exalted affiliate programs, especially for bloggers with a passion for creating amazing content!
As one of the world's foremost digital marketplaces in the online learning realm, Udemy is a brand that you can feel comfortable sharing with your hard-won blog readers. Udemy also has plenty of courses in a variety of topics spanning from cybersecurity, data science, health, relationships, diet, computer science, marketing, business apps, software, arts, blogging, yoga, self-defense, and virtually every other topic I can envision!
Step # 7 – My 2 Best Tips For Promoting Your Blog Even If You Don't Have A Big Budget
The excitement of launching a blog on WordPress can seem daunting if you feel like nobody is reading your content. It's easy to lose hope as a blogger if nobody is sharing your thrills and emotion. Can you relate? On the same token, advertising can feel outrageously expensive for the novice bloggers of the world. So, the question that numerous bloggers confront, is how can you get blog readers?
Paid advertising isn't always in reach in our new economic landscape. In our new global economy, it's understandable if you don't have the biggest budget in the world. I think these days, all small business owners, bloggers, internet marketers, entrepreneurs, and freelancers alike feel a significant budgetary pinch.
These setbacks can lead aspiring and existing bloggers to wonder how the heck can they advertise their blog? Who has money to spend on advertising these days, other than the massive corporations and big banks? Unless you're a billionaire or a mega filthy-rich guru, reliable paid advertising can seem like a pipedream.
If you can relate, and if you feel like advertising your blog is a lost cause, then relax! I'd love to show you a handful of my beloved blog promotional methods.
Advertising Your Blog On Social Media
I haven't touched upon social media at all in this epic blog post. That may lead you to believe that I don't enjoy social media as a blog promotional method. The truth is that I love social media! But, admittedly, not as much as most bloggers.
That said, social media is your most immeasurable friend as a blogger. As you publish new blog posts, it's a fabulous idea to let your social media followers know about your latest entries!
Writing a short preview post on Twitter, Facebook, or Instagram is probably one of the most natural and speediest ways to promote your blog posts as you publish them. There are many dozens of prominent social media channels, bookmarking apps, and additional social networks springing up all the time, and as the years pass. Even as successful social networks evolve, the strategy of sharing your phenomenal blog post content shall remain unscathed.
The name of the game is always the same. Produce unbelievable blog content, and then share that content across your social media channels. Which channels do you prefer to use? The selection is yours to make.
My Two Favorite Social Media Networks For Promoting My WordPress Blog!
There are two social media channels that I use above all others. First, let's discuss Pinterest. Each time I write a new blog post, I also devise an accommodating blog post graphic using Canva. I then publish that graphic on Pinterest. Pinterest rules for bloggers and I invite you to follow me on Pinterest and introduce yourself if you're a fellow blogger!
I'm also an immense fan of Twitter to help promote my blog posts. I've been on Twitter for many years now and I love to associate with fellow bloggers and writers on my Twitter feed. Twitter is one of the solitary social media channels that I use constantly and I invite you to follow me on Twitter so you can see what type of blogging extravagance and shenanigans are brewing in my neck of the woods!
Advertising Your Blog With Email Marketing
I'll always cherish email marketing. It's one of my first loves as a self-publisher, writer, and tech geek. There's something intimate about email marketing that far transcends that of social media marketing – in my humble opinion at least. There's nothing more special than an email. Laudable email marketing strategy allows you, the sender, to communicate with your reading audience in a way that is one too many, yet it seems intimately like a "one to one" experience. Email can also be a colossal relationship-building asset for bloggers across all niches and markets!
Therefore, I herewith propose that your blog's email newsletter is one of the most intelligent ways to help spread the word about your new blog posts. What better opportunity to promote and share your new blog posts than by letting your blog and email subscribers know about your latest work?
Also, never forget about the dire cruciality of building your email list and generating more email leads! In other words, never stop promoting your lead magnets throughout your new blog content. Remember the power of a lead magnet! Sprinkle your lead magnet banners and calls to action throughout all of your new blog posts so you can continually generate fresh leads and build your email list!
Building Your Blog's Presence And Reputation By Constantly Writing Fresh Content
Imagine if you had a steadfast reputation as someone who goes above and beyond to create fruitful, helpful, and detailed blog posts in your niche. That would feel amazing, right?
The immeasurably good news is that blogging is a ton of enjoyment if you admire writing. You might experience the time of your life sharing your passions and experiences with your beloved readers if you treasure writing adequately. The bad news is that blogging consistently requires a ton more labor and effort than most spectators (non-bloggers) believe!
Consistency in blogging is a rare characteristic attributed only to the most diehard of bloggers. It's one thing to write a single blog post. Writing several blog posts consistently and repeatedly is something else entirely. Continually creating incredible blog posts over the long-haul, that's the masterstroke and the endeavor which truly demands your absolute enthusiasm, motivation, and commitment.
Your consistency of a blogger speaks volumes. If you don't love the sentiment of creating and writing new blog post content frequently, then will you ever gain the blogging momentum or authority that you so desire as a blogger?
All of these ideas lead us once again, full circle, to the notion that your interest in your blog's niche is vital for an assortment of reasons. Food for thought!
How To Launch A Blog On WordPress FAQs – Blogging FAQs For New WordPress Bloggers
After blogging for years, I've dedicated countless amounts of time to brainstorming, developing, and producing all things blogging. I'm honored to address some of the most common questions WordPress bloggers are sure to encounter. Please enjoy!
# 1 – How Can I Start A Blog On WordPress If I Don't Have A Single Dollar To Spend?
Remember that WordPress.com has free WordPress options to use and consider for your blog! Also, WordPress.org (the self-hosted version of WordPress) is free to use technically. However, with WordPress.org, you need to have a web host to install WordPress.
Regardless, either version of WordPress is extremely affordable (or free) for novice bloggers, even if you're strapped for budget.
So, if your marketing chauffeurs are short of funds, then relax. You also have plenty of alternative blogging options that are free (or cheap) if you want to launch a blog on a bottom-tier (or zero) budget.
Short on a blogging budget? Don't panic! You have tons of blogging options to consider. I'll make note of a few famous options below.
The Following Blog Platforms Are Free To Try For Your Blog Launch:
Medium
Blogger
Tumblr
Constant Contact
Wix
WordPress.com (The WordPress.com version of WordPress offers free WordPress blogging!)
In addition to being free to try, the above blogging platforms are also simple and stress-free to use – even if you aren't the most technically inclined blogger on Earth.
# 2 – What Types Of Marketing Emails Should I Send To My Blog Subscribers?
You have nearly endless possibilities as an email newsletter publisher! One of the best things to send to your email subscribers is notifications about your new blog posts.
Another thing you can do is write a review for a product, share a tutorial, share a video, a course, an ebook, or any piece of content that you create.
I'm also an outspoken advocate for webinar marketing! Webinars can be exceptional for building your brand, generating leads, entertaining your existing leads, and also generating boatloads of good karma!
If you wish to learn more about webinar marketing, and why webinar marketing rules, then check out this epic guide I wrote about webinar marketing tips for small business owners.
# 3 – What's The Best Way To Monetize A Blog After A Blog Launch?
I would say that affiliate marketing is one of the most popular methods for bloggers to monetize their content. Since there are countless affiliate programs in a variety of niches, just about any blogger can likely find quality affiliate products that they can refer to their dear readers.
Also, don't forget about the power of email newsletter publishing – also known as email list building, email marketing, et cetera. Blogging using WordPress can be a tremendous lead generation and email list building technique. I also wrote extensively on the topic of email list building for bloggers using WordPress. I invite you to read more if you wish to learn my favorite lead generation maneuverings for WordPress bloggers.
# 4 – Do You Have Any Insightful Blogging Tips For Writers Who Want To Launch A Blog On WordPress?
Yes. As a writer, you have an unfounded and unfair advantage over your nonwriting competitors! Use your advantage wisely! Harness your creative energy and endeavor to serve your majestic blog readers as immaculately and completely as possible.
Strive to create a continuous current of beautiful blog post content that your readers can't help but read. You are a writer. You are passionate, you are powerful, and your words have nearly-infinite potential! Use your time, and your words carefully to help serve your readers and change the world – one blog post, and one blog reader at a time.
# 5 – Does Grammarly Work Good For WordPress Bloggers Who Want To Launch A Blog On WordPress?
Yes! I fell in love with Grammarly shortly after I used the app for the first time. I can honestly say that I've written countless dozens of blog posts using Grammarly! (Dozens of blog posts is a humble understatement, I suspect.)
As someone who suffers from outrageous grammatical errors and spelling mistakes, Grammarly is a lifesaver. I can't recommend Grammarly enough and I try not to publish anything of note on my WordPress blog before I doublecheck using Grammarly!
Another consequential reason that I use Grammarly is that it's 100% cloud-based. So, I can easily access my work and blog post drafts regardless of where I am or what device I'm using at the moment. So heck yes, I cherish Grammarly and I indeed believe that I'm a better writer as a result.
Conclusion
I can't thank you adequately enough for reading this blog post. Blogging is something that's in my blood. I've devoted much of my life to publishing nerdy texts throughout the humble MrComputerScience.com blog over the years.
It's my life honor to accord my best blogging insights with you so you can better attempt to launch an astonishing WordPress blog!
If you encounter questions during your blogging adventures, please don't hesitate to contact me. I'm happy to brainstorm with like-minded blogging friends!
Until that time, I thank you again for reading.
Please have a great day, and never stop blogging!
Cordially and humbly…
Mike "Launch Your Blog Already" DeVincent
MrComputerScience.com