In this blog post, we're about to brainstorm 5 nifty ways that can help you cut business costs as a small business or marketer. Over the last couple of months, I've witnessed more economic change than in the last 10 years of my life. I can't believe how fast the world economy, the digital marketplaces, and overall financial landscapes have shifted so quickly.
According to many reports, the US may be headed for a catastrophic recession that far surpasses 2008-2009. For those reasons, I think that it's essential for small business owners, bloggers, teachers, authors, freelancers, and gig economy workers of the world to cut costs any way that we can.
5 Smart Ways To Cut Business Costs And Save Money As A Small Business Owner
# 1 – Study Marketing And Learn To Use Business Tools So You Can Cut Out The Middleman
# 2 – Use Data Science And Analytics To Your Business Advantage
# 3 – Use Automated Marketing And Sales Systems
# 4 – Take A Close Look At All Business Expenditures And Cut The Cord On Accounts You Don't Use To Help Cut Business Costs
# 5 – Don't Accept One Size Fits All! Make Deals And Demand Bargains!
Here's Why Cutting Business Costs Is So Critical For Small Business Owners These Days
Our entire planet is rapidly transforming in ways that most humans (and arguably economists) understand. With soaring jobless claims and small businesses everywhere struggling, it's easy to understand how money is tight. I can relate!
The good news is that I've been blogging on this humble (yet chic and nifty) MrComputerScience.com website for years. I've spent much of my life thinking about how to save cash and operate a blog on ridiculously-thin margins. I've also been publishing email newsletters, writing sales copy, pitching sales videos, and I've launched well over a dozen digital courses.
I'm not saying any of this to gloat or to toot my marketing horn. The only reason I mention these feats is that I too am a tiny, one-person team that operates on a razor-thin budget. I know what it's like to save and skrimp. I've put a ton of thought into this topic over the years. I'm happy to share some of my money-saving tips with you!
That's why I spent an hour brainstorming a handful of clever strategies that can hopefully help your small business (or tiny one-person-team) save a couple of bucks. Let's brainstorm more, shall we?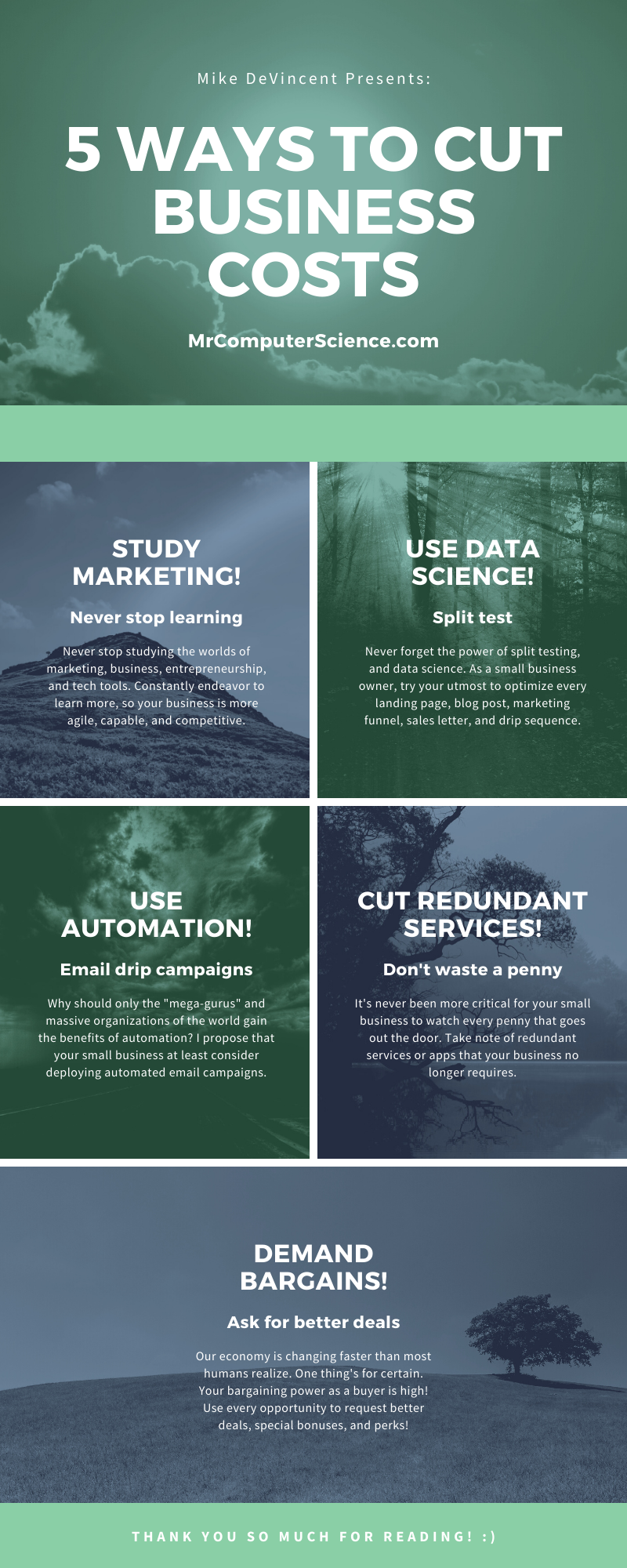 # 1 – Study Marketing And Learn To Use Business Tools So You Can Cut Out The Middleman
I want to let you know that I'm an IT nerd, a total cheapskate, and also someone who is a staunch minimalist. For those reasons, I'm a firm believer in self-reliance and have a "do it yourself" attitude. As a result, and to cut out the middleman, I study nonstop. I try to learn as much as possible about marketing, copywriting, tech stuff, course launching, building website, et cetera.
Instead of hiring a tech or marketing team that might cost your business many thousands of dollars (or more), it might behoove you to learn those skills yourself. In my humble opinion, this one step is easily the most immeasurable means to help increase the independence and agility of your small business.
Here's Why Learning About Marketing Can Help Save Your Small Business Some Cash And Cut Business Costs!
My humble two cents? If you're operating on a tiny (or even a nonexistent) budget, then learning about modern marketing and tech should be some of your top priorities. Doing it yourself may not be as efficient as hiring a marketing firm or an SEO (or copywriting, marketing et cetera) expert. But, we small business owners oftentimes don't have the luxury of affording the best! Especially these days when many small business owners are fighting tooth and nail to survive. The ability to learn and to adapt is precious.
That's why I recommend that you take up learning how to market your business as much as possible. Learn about the tools you need to successfully deploy marketing systems for your business. Learn the basics of copywriting. Learn about sales funnels. Learn the basics of HTML and CSS. Learn how to build a basic lead capture page! For example. Let me hit you with a surprise pop quiz to test your readiness as a ferociously independent (and contemporary) small business owner.
Take Inventory Of Your Small Business And Marketing Skills! Can You Accomplish The Following?
Do you know how to build a lead capture page? What about a fully-fledged email list building funnel?
Do you know how to add an "Add To Cart" button to your website so you can start accepting orders?
Do you know how to write an elementary sales letter? What about a video sales letter?
Can you write a pitch email?
Can you write an email that attracts JVs?
Can you create a PowerPoint (or slide deck) presentation? What about one that looks cool?
Can you confidently record your voice while reciting a lecture or course?
Do you know how to use audio tools like Audacity to help record lectures? What about screencasting apps to help record your desktop?
Does your small business have a crystal clear vision of who it is that you want to help?
If You're New To The World Of Marketing And Tech – Then Don't Panic! Here's How To Learn – For Free!
I've been studying this nerdy marketing and tech stuff for much of my life. The only attributes required to learn is time, patience, and passion! I challenge you to commit yourself to learn as much as you can about business and tech. The knowledge required to write a sales letter, write a blog post, install WordPress, build a marketing funnel, write an email newsletter, or build a beautiful email marketing campaign is available for free.
There are countless podcasts, YouTube videos, and blogs that you can access free. This humble MrComputerScience.com blog hosts a plethora of free content! I invite you to read more. You can also snag free courses on Udemy and Skillshare that teach astounding marketing, business, and tech skills. Make wise use of your time – and never stop learning!
# 2 – Use Data Science And Analytics To Your Business Advantage
These days, every penny counts. That's why data science and business analytics are unfathomably crucial. If you're in a panic, thinking "But Mike! Dude! That sounds like way too much work! What the heck!" – then I beg you to relax. Don't worry!
The truth is that while I'm a geeky and nerdy marketing blogger, I also loathe complications and difficult analysis. So, I want to share some of the easiest and most low hanging fruit data points and split test ideas that you can analyze in your business.
Simple Data Points And Split Test Ideas That Can Make A Massive Impact In Your Business If You Wish To Cut Business Costs:
# 1 – Your lead capture page opt-in rate. Split test different pages and try to increase performance! This is probably my favorite split test strategy ever – and I've taught entire courses on this topic and written copiously regarding the dire essentiality of a properly converting lead capture funnel!
# 2 – Your blog's most popular blog posts and pages. Figure out your top 10 most popular posts. Try to write more of what your readers want!
# 3 – Your email drip campaign's follow up statistics. Consider tweaking the campaign to make up for any emails that perform poorly. Mimic those that perform beautifully. Which emails get the most opens, clicks, and sales?
# 4 – Your sales letter conversion rate. Try to split-test a few variations to see if you can make sales spike! If you get lucky, perhaps spike drastically!
# 5 – Take a close look at any of your paid advertising campaigns. How much are you paying per click? How much are you paying per lead? How much is your lead worth?
Here's Why I'm A Diehard Split Testing And Data Science Fanatic! Especially For Marketers And Small Business Owners Who Want To Save Money On Advertising!
In case you're not sure, split testing (in a marketing and advertising context) is when you put two marketing pages head to head to see which one wins. So maybe you launch two different lead capture pages head to head to see which one wins. Which lead capture page gets a better opt-in rate? Which one gets more sales?
I can't overstate the power of split testing for your small business if you wish to cut costs. Imagine if you launched a lead capture page that got a 30% opt-in rate on average. What happens if you gave up? What if you NEVER split tested? You'd be stuck with that 30% opt-in rate. Permanently.
Contrarily, what if you run a marketing experiment? What if you tested a second version that got a 50% opt-in rate. Congratulations! You just found a marketing creative that smoked your last version. That tiny test yielded you a 20% return in opt-ins. 20% more leads! Wouldn't setting up a small experiment be a worthy endeavor in this case? I think so, yes.
Of course, not all marketing experiments and split tests will yield fruitful (favorable) results. However, I always and forevermore contend, that until you test – all you have is a guess.
Split testing can help to dramatically improve the performance of any marketing page or funnel. What better opportunity do you have to help cut business costs?
I know what it's like to struggle to build a website. I've launched so many websites that have flopped over the years, that I'd probably break down crying if I told you a tale of my woes.
That's why I'm unfathomably and ludicrously passionate about split testing and data science. Split testing can help you to figure out what works, and what doesn't. Moreover, split testing can help your business fine-tune your marketing creatives from top to bottom.
It doesn't matter whether you're split testing your newest lead capture page, launching a webinar, or promoting your new sales letter. By adding a variation (or two), you can thereby experiment to see which marketing creative gets better results. A little bit of testing can go a far way!
# 3 – Use Automated Marketing And Sales Systems!
Everyone hears about how the world of US manufacturing is getting splattered by automation, robotics, artificial intelligence, machine learning, and advanced software. But, what if the small, tiny, one-person-teams of the world (even tiny bloggers like us) could take part in the exciting world of automation?
In other words, what if you could automate certain phases of your business? For example. Much of my email marketing is 100% automated. When someone joins my email list, they get a drip-fed campaign that shares a ton of my best, hand-picked content.
The same is true for many of my social media posts. I use blog tribes (I'm a big fan of Triberr) to help syndicate and share my favorite blog posts on Twitter and LinkedIn – 100% automatically. I just plug some blog posts in the queue, then sit back and watch the service do its magic.
Nothing is stopping you from doing the same. You might be surprised to see many of the affordable tools that can automate different marketing, sales, and followup systems for your business.
Here Are Some Amazing Business Automation Tools
Tools like AWeber, ConvertKit, or Constant Contact can help to fully automate much of your email marketing content.
You can use tools like Demio or EasyWebinar to use automated webinar funnels so you can generate leads and share your best content.
You can use tools like ClickFunnels to follow up with your new leads without breaking a sweat. ClickFunnels can also help to sell and deliver your products online – without tech stress.
Tools like IFTTT (If This Then That) can connect to countless third-party apps to help establish various forms of automation for your business. IFTTT rules for social posting, notifications, and more!
Here's Why I Love Email Automation For Small Business Owners! Doubly So If You Want To Cut Business Costs!
First of all, email automation software is absurdly low-priced. I'm an enormous fan of AWeber for email automation and their services are super economical. You can also use email marketing tools like Mailchimp or Mailer Lite which both offer free services for new email marketers with small lists.
I'm irrationally in love with email marketing and email copywriting. I think if you adore writing, or if your business has a plethora of tutorials, training, guides, or webinars to share, then email automation is one of your smartest avenues to use automation.
Your email drip campaign can contain tons of branding material, introductions to your service, and of course – ample calls to action promoting your business and products.
By the way, I wrote a legendary guide that teaches how to write an email course from scratch. If you want some of my best content on how to master email marketing automation with an ingenious strategy, then I invite you to read and I hope you enjoy it and have fun!
# 4 – Take A Close Look At All Business Expenditures And Cut The Cord On Accounts You Don't Use To Help Cut Business Costs
I've had countless friends, colleagues, and even family members who spend cash faster than I can believe! (Lol.) Can you relate? They need to have the latest and greatest shiny object. They buy buy buy before they fully analyze whether or not they need (or can benefit) from the product or service. I'm not making fun of these types of people. Heck, I've loved many of them dearly. But, if you can relate, then please, let me help you snap out of this wild behavior!
I don't know about you, but I keep a close eye on every single penny that I spend on my business. I know how much I pay for my blog, and when the bill is due. I know exactly how much Microsoft Office 365 costs, how much it costs for a domain, how much it costs for my email marketing software, et cetera.
All in all, I know exactly (within reason) how much it costs me to run my website and email newsletter for the entire year. Do you know the same? Do you know the operating costs of your business? If not, take inventory today!
Keep an eye on stuff that you are paying for now, and don't buy anything else unless it's undeniably necessary! Don't buy junk! Read reviews before you buy! Your small business mustn't be squandering cash! Especially these days when every cent counts! Consider using a tool like Truebill or Quicken to help track every penny that your business spends. Are there any apps or services you're not using sufficiently? Are all of your expenditures unavoidable and are they helping your bottom line? Be brutally honest with yourself!
# 5 – Don't Accept One Size Fits All! Make Deals And Demand Bargains!
I hereby challenge you to be bold and courageous enough to demand deals and perks. If you want to cut business costs, then have the courage to ask for a better deal.
If there's ever been a buyer's market in the history of the planet, we're experiencing one now. Customers are hard to come by when the world's scraping collectively for cash. Not to seem like a doom-and-gloomer, but I've read so many horror stories in the world of retail and small business over the last few years that it makes me depressed! The world is hurting, many small businesses included!
Over the last couple of decades, mankind has endured some of the worst financial havoc. From a historic recession in the UK to small business owners struggling to stay afloat. One of the only good things I can imagine from this chain of economic turmoil – is that you have a lot of leverage as a buyer.
Whether you're negotiating rates for a freelancer, opening an account with an advertising network, striking up a joint venture deal with a sponsor, or buying a new WordPress widget to help build your email list – you should always ask for a better deal. If a better deal isn't possible – then ask for special perks.
Ask for exclusive discounts. Ask for bonuses. Ask if there are any good deals for new (or existing) accounts. Never take no for an answer. Remember that these days your influence as a customer weighs heavily on the minds of small (and medium to large) businesses everywhere. Use that to your advantage to solicit more desirable deals on anything and everything! Especially as a small business!
Cutting Costs For Small Business Owners FAQs And FAQs For Small Business Owners Who Want To Save Money
I'm one of the thriftiest bloggers and newsletter writers on this side of the Mississippi. I try hard to cut business costs! That's why I'm delighted and honored to share my favorite small business cost savings tips with you. Please enjoy, and have fun!
Do You Have Any Cheap Advertising Tips For Small Business Owners Who Want To Cut Business Costs?
Yes, for sure! As a nerdy marketing geek who loves to write, writing SEO articles and blogging are among my favorite methods to generate free buzz for my business.
In other words, I'm a huge proponent of content marketing, blogging, and search engine optimization.
If your small business doesn't have a blog, then you should launch one. Twofold so if you enjoy writing, creating tutorials, sharing stories, and helping people!
If you're shaking because you're not quite sure how to launch a beautiful (and bedazzling) blog, then fear not. I've published an epic guide that talks about how to launch a blog on WordPress in fine detail. If you're at all curious about launching a blog, then I invite you to read!
How Can My Small Business Generate Leads On A Limited Budget?
Once again, I'm an immense supporter of blogging and content marketing to help generate leads. My strategy is uncomplicated. I brainstorm thoroughly to determine topics that my ideal email subscribers and prospects would embrace. Then, I create copious quantities of content on that topic!
I sprinkle my blog posts with invitations to join my email newsletter. In other words, I create lots of calls to action within my blog content to join my email newsletter.
Do you want more lead generation tips? I wrote an epic guide that talks about 3 vital lead generation tips that I invite you to read. If you want to generate leads, and if your budget isn't the most significant, then I wrote the content with small business owners like you in mind!
Does Facebook Marketing Work For Lead Generation?
Yes, absolutely. I think that since Facebook is one of the most popular social media channels on the planet, that it's reasonable to deduce that your ideal prospect, customer, and buyer spends time on the platform.
One of the most prominent tips for social media marketing on any platform is to remember the power of a serviceable lead generation funnel! A lead generation funnel with an alluring lead magnet gives you something that you can be proud to share! A solid lead generation funnel can also help you to automate much of your marketing campaign, thereby empowering (freeing) you to create even more, and better content to attract your leads in the first place. Food for thought!
Does Email Marketing Still Work For Small Business?
In my opinion, yes. I think that email marketing is still one of, if not the best ways to reach nearly any audience.
Remember, most of your prospects have an email address, right? Most people I know still use email, and I don't think they will stop using email anytime soon!
Email marketing is ludicrously cost-effective. There are a handful of 100% free email marketing tools that you can use. Even if you use a premium email marketing tool (like AWeber), you can still get by without breaking the bank.
What's The Best Email Marketing Tip For Small Business Owners?
I think the best email marketing tip for small business owners is to know your ideal prospect. Meditate and brainstorm deeply into the desires, frustrations, and problems that your ideal prospect faces. Research doesn't hurt either. Figure out what makes your prospects tick!
If you can accomplish that, then you'll be in a powerful position to brainstorm ingenious promotions, marketing ideas, and email newsletter content that can hopefully help your subscribers a great deal.
Conclusion
I know how devastating the economic impact has been on small business owners all around the world over the last couple of decades. It seems like we small business owners can't catch a break!
That's why I'm always trying my best to write helpful blog posts for you, my preciously beloved reader.
I truly hope that this content finds you well and that you enjoy a glorious day.
Thank you so much for reading. I owe you the world!
Cordially…
Mike "Cutting Business Costs" DeVincent
MrComputerScience.com