As an online teacher, I'm constantly brainstorming cool ways to help promote my online courses. The trouble is that these days, money is tighter than ever. Marketing and advertising budgets are tiny if they even exist! Can you relate? If so, then let's brainstorm 5 cool ways to help promote your online course without a big budget!
5 Elite Ways To Help Sell Your Online Courses Without A Big Budget
# 1 – Launch Your Course In A Digital Marketplace
# 2 – Host An Automated Webinar Funnel
# 3 – Launch Your Own Affiliate Program To Help Sell Your Online Course
# 4 – Create Tons Of Free Content That Helps Your Ideal Student
# 5 – Here's How To Tell Everyone About Your Online Course By Using A Marketing Funnel!
Here's Why I Love These Methods To Help Sell Your Online Course Without A Big Budget
I want to let you know that I've spent a ton of time teaching digital courses and online courses. After launching over a dozen courses and enrolling many thousands of precious and amazing students worldwide, I now live and breathe the world of teaching.
But, I also know how discouraging and frustrating it is when you put your heart on the line and come up empty. In other words, I know the pain of creating a course only to have dismal enrollment numbers!
That's exactly why I'm passionate about helping online teachers promote their courses. These following strategies are 5 cool ways that can help online teachers sell their online courses.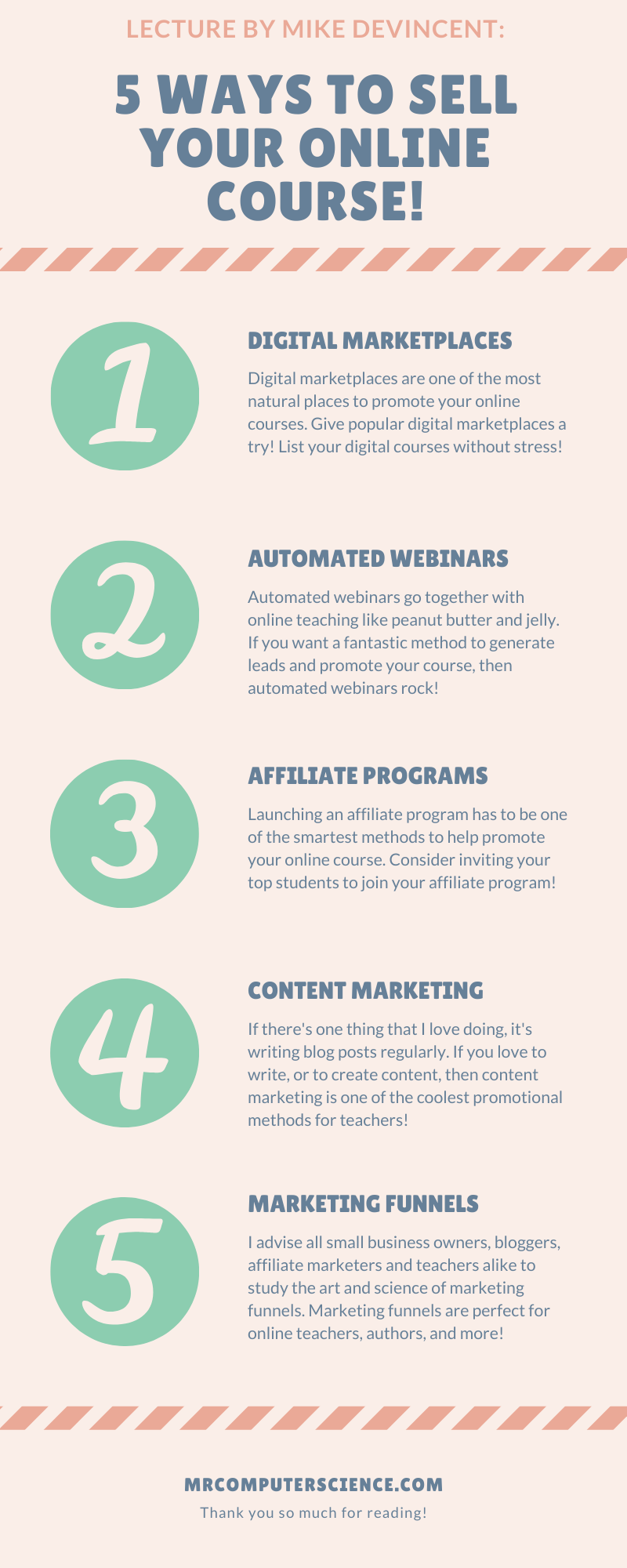 # 1 – Launch Your Course In A Digital Marketplace
If you're struggling to sell your online course, the first thing you should consider is launching your course in a digital marketplace.
The digital marketplaces are a dream come true for teachers. You don't have to build a landing page. You don't need to handle any of the codings. You don't even need to handle any of the tech support for your students.
The only thing you need is to bring your "A-Game" when it comes to teaching amazing content. I've launched dozens of online courses in popular marketplaces, and my courses have attracted over 14,320+ amazing students from over 100+ countries.
Here's A List Of Digital Marketplaces That Rock For Online Teachers And Listing Your Online Course:
Udemy
SkillShare
SkillSuccess
Lynda
CyberU
LinkedIn
More Course Marketplaces Are Launching All The Time!
More online marketplaces launch all the time, so keep your eyes open for course marketplaces to help list and sell your online courses!
# 2 – Host An Automated Webinar Funnel
In my opinion, webinar marketing funnels are one of the smartest marketing funnel ideas for online teachers. Why are webinar funnels fantastic? Because they can help you to generate powerful karma by teaching your prospective students.
I think that webinars also serve as the ideal introduction to you, your teaching style, and your personality. If your webinar attendees like your webinar, then they might relish your premium course.
Webinars also rock if you wish to generate leads. That way, you can generate an email lead then followup with fantastic content over the long-haul.
A serviceable webinar funnel can also be potent for selling and advertising your online course. Any decent webinar marketing software will enable you to insert a call to action during your webinar so you can sell your online course in style.
# 3 – Launch Your Own Affiliate Program To Help Sell Your Online Course
If you go through all the effort of launching a beautiful online course, then you may as well launch an affiliate program! If you have a fancy webinar funnel, then your affiliate program might be a doubly dominant – and ingenious way to help promote and sell your online course.
If you're not sure how to go about creating an affiliate program for your course, then I recommend ClickFunnels. ClickFunnels is, in my opinion, one of the best marketing tools for online teachers. ClickFunnels can help you launch an automated webinar funnel, and also an affiliate program without any coding or tech skills.
# 4 – Create Tons Of Free Content That Helps Your Ideal Student
If you're in the business of creating fantastic online courses, then it might behoove you to serve your students in other ways. Take this humble MrComputerScience.com blog as an example! I'm constantly trying my best to publish fantastic (and helpful) blog post content on here.
If you wish to attract your ideal student, then why not publish tons of "bait" content marketing content? Try your best to figure out what types of content your ideal student wants. Then, try your best to contribute to the great conversations that occur in your niche.
Here Are Some Fantastic Formats For Content Creation:
Blog posts
YouTube content
Facebook live streams
Facebook posts
LinkedIn content
Answering questions on Quora
Email newsletter content
Also, Don't Forget The Power Of A Free Online Course!
One of the coolest methods I've ever utilized to help build my following as a teacher – is to give my online courses away for free.
I know that a lot of teachers dislike the prospect of gifting their course without charging the cash for enrollment! However, consider that you can promote your lead magnets, your blogs, your books, your lead generation funnels, or even your other premium courses inside of your free course! In other words, your free course could potentially make for the perfect lead magnet in many situations. Food for thought.
I also invite you to read more about email list building tips for WordPress bloggers and content marketers. I dive deep and discuss a handful of my best email marketing, lead generation, and email list building tips that I think you might appreciate!
# 5 – Here's How To Tell Everyone About Your Online Course By Using A Marketing Funnel!
One of the main things that teachers (and authors) overlook is the power of a marketing funnel. A good marketing funnel can be the best way to help spread the word about your online course without bending over backward or repeating yourself ad nauseam to your new leads, lol.
That's a major reason I'm always writing about sales funnels and marketing funnels. Sales funnels are the perfect way to break the ice, introduce yourself, and generate a lead – while also promoting and advertising your online course.
My favorite thing about a marketing funnel is that a proper funnel allows you to automate you when you're at your best.
Imagine if you create a short presentation that helps introduce yourself, and sell your course. Or, imagine if you spent a week writing the perfect email followup sequence to warm your leads, introduce your course, and then sell your online course. These are the potential advantages of a serviceable marketing funnel for online teachers!
Here's A Big List Of Sales Funnel Ideas To Help Sell Your Online Course:
Membership funnels
Hero funnels
Automated webinar funnels
Product launch funnels
Video sales letter funnels
A ton more!
Here's The Hidden Beauty Of Having A Sales Funnel To Help Sell Your Online Course
Once your marketing funnel or sales funnel is operational, it then becomes a game of letting your prospects know about your funnel. Let your automated followup sequence tell all of your prospects about the unimaginable beauty (yes, indeed, beauty) and energy of your online course.
Your funnel can also help you to build good karma (by sharing excellent content), share your best brand stories, and build your email list at the same time. Marketing funnels rock for online teachers!
Selling Your Online Courses On A Limited Budget FAQs
These days, a lot of online teachers are feeling cash strapped. If you can relate, then no problem. I've been a teacher balling on a budget for quite some time, and I've brainstormed nearly-endless answers to common questions that you may encounter during your online teaching endeavors.
# 1 – Can Sales Funnels Help Online Teachers Launch Their Online Course?
Yes! I'm an outspoken advocate for sales funnels because I think that sales funnels are one of the smartest ways for online teachers to not only promote their online courses, but sales funnels can also help to generate leads.
I'm also a fan of ClickFunnels if you don't like the tech side of building marketing pages. I've been building websites for many years. I know the tech struggles that come with launching a sales funnel from scratch. That's why I love ClickFunnels. ClickFunnels makes it ludicrously straightforward for anyone to quickly launch amazing marketing funnels without coding or tech expertise.
If you want to deploy a product launch funnel, an automated webinar funnel, a membership funnel, a video sales letter funnel – or just about any type of funnel, then I proudly recommend ClickFunnels without hesitation.
# 2 – What's The Best Marketing Funnel For Online Teachers?
You have nearly endless options. That said, I think that automated webinar funnels are my favorite for online teachers. Automated webinar funnels boast a huge number of benefits. One of the best benefits that I like about automated webinar funnels, is that they're perfect for email list building.
Automated webinars can help you to generate email leads and thereby craft the perfect email follow-up funnel. Your webinar also rocks for affiliate marketing, branding, good karma, and so you can introduce yourself to your prospective students in an automated fashion.
If you want to learn more about webinar marketing, then you should consider reading this epic blog post I wrote that teaches epic webinar marketing tips for small business owners. I reveal an abundance of smart webinar marketing tips to help you get started without technical stress. I hope you enjoy!
# 3 – How Does Affiliate Marketing Work For Teachers? Can An Affiliate Program Help Sell My Online Course?
Affiliate marketing rocks for teachers. The way affiliate marketing works is simple. As a teacher, you could propose to offer anyone who promotes your course a commission for each sale that they generate of your course.
In other words, let's pretend that one of your students loves your course. They happen to have a blog, and they want to review your course. You could invite the student to your affiliate program – and offer a 50% commission of every sale that they generate. Sounds cool, right?
If you're worried about the technical hurdles of launching an affiliate program, then relax. ClickFunnels makes launching a robust affiliate program a piece of cake, which is another reason that I recommend ClickFunnels to online teachers.
# 4 – Can I Sell My Online Courses By Blogging?
Yes! As someone who blogs nonstop, I'm a huge fan of blogging. I also think that blogging is a tremendous method to help promote your online course.
One of the biggest SEO tips I can bestow upon fellow teachers and bloggers is to know your ideal student. It's your job to figure out what types of queries your ideal student types into the major search engines. That way, you can brainstorm, produce, and launch the perfect "blog bait" to help attract your ideal student.
What major questions do your prospective students experience in your niche? Research so you can answer that question without stress. Also, try your utmost to optimize your blog posts (and blog's layout) so you promote a lead generation funnel or your online courses. Simple banners and inline calls to action are better than nothing!
By the way, if you wish to learn more about blogging, then I wrote an epic guide that teaches how to launch a blog on WordPress without tech stress. I reveal my favorite strategies for finding the best domain, the web host that I use for MrComputerScience.com, my best promotional tips – and more!
# 5 – Does Podcasting Work To Help Sell My Online Courses?
I think so, yes! If you're passionate about Podcasting, and if you have powerful messages to share, then Podcasting rocks. I can tell you from being around IT nerds and bloggers over the years that people love listening to Podcasts from their favorite bloggers, influencers, news anchors, et cetera. There's no question that Podcasting is ridiculously popular. But, only get into podcasting if you love the idea and if you're passionate!
The best thing about launching a podcast is that it's dirt cheap. A decent Podcast host only costs a $5 – $15 per month to start. Libsyn, one of the world's most popular podcast hosts, only costs about $5 for their introductory plan! Therefore, if you're passionate about launching a Podcast, then it's easy on the marketing budget, which is good news.
Conclusion
I have to tell you that being an online teacher rocks. There's nothing quite like sharing your thoughts, experiences, skills, and wisdom with students from all over our amazing planet.
But, as you know, it's tougher than nails to sell your online course – especially if your marketing budget is diminutive. That's why I hope that this content found you well and that you enjoyed reading. I had an excess of pleasure writing for you!
Please let me know if you have any questions, feedback, or comments. I invite all teachers, bloggers, tech nerds, and small business owners to brainstorm!
Until that time, please enjoy a miraculous day.
Cordially and humbly…
Mike "The Online Teacher" DeVincent
MrComputerScience.com