I don't need to tell you that our economy isn't the best that it's ever been. If you're a small business owner, that doesn't change the fact that you require a consistent stream of leads. That's why you should read this blog post. We're about to brainstorm 3 breakthrough lead generation strategies for small business owners in a down economy.
3 Vital Lead Generation Tips During A Down Economy
# 1 – Here's The Biggest Lead Generation Tip That Can Also Help Produce Massive Good Karma For Your Business
# 2 – Here's 5 Genius Ways You Can Share Your Message To Help Generate Leads
# 3 – My Best Lead Generation Tip For Writers, Bloggers, Creators, And Influencers Alike
Here's Why I Love These Lead Generation Tips During A Down Economy
As a blogger, teacher, email newsletter publisher, and nerdy small business I always try my best to generate leads. That said, I realize how tight cash is these days for small business owners all around the globe.
That's why I'm apt to share these lead generation methods with you. The following lead generation strategies are perfect if you don't have the biggest marketing budget and still desire to spread the word about your business.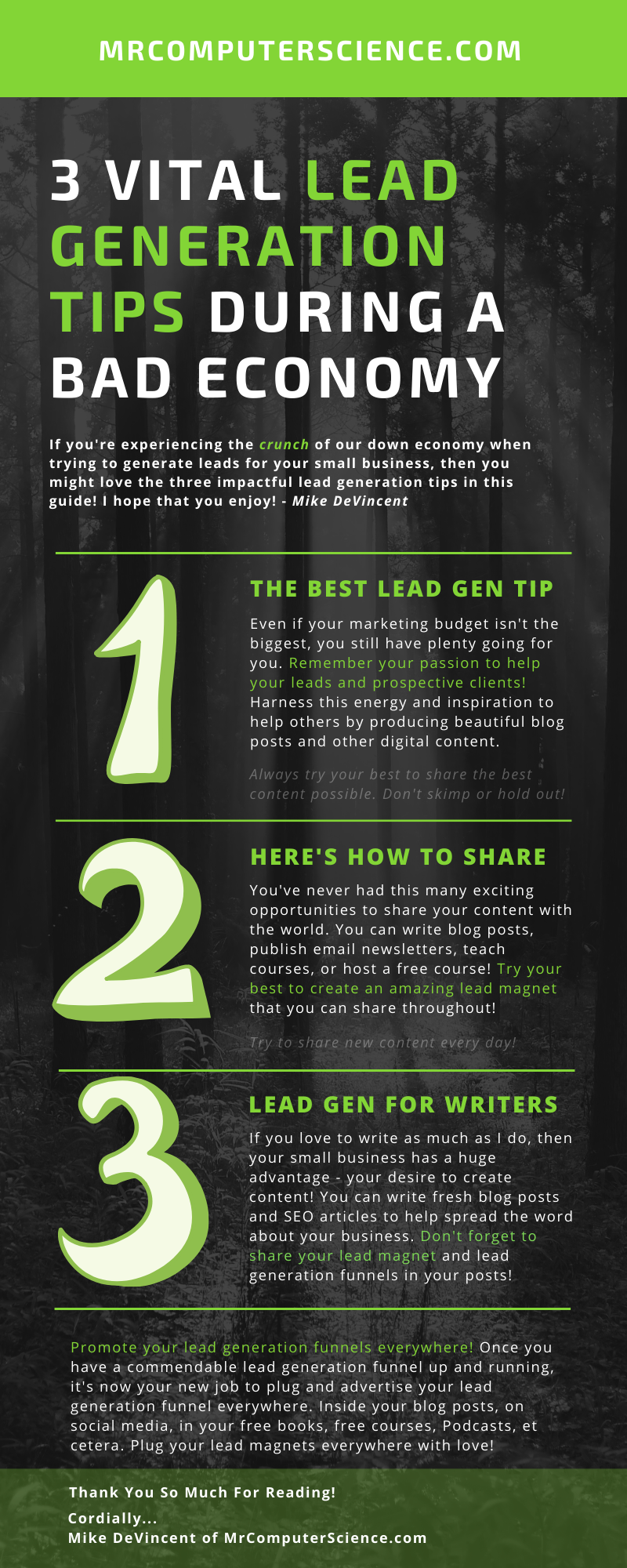 # 1 – Here's The Biggest Lead Generation Tip That Can Also Help Produce Massive Good Karma For Your Business
You might not have the biggest or most grand marketing budget to advertise your squeeze pages and lead generation funnels. But, one advantage that you still have is that you have a copious abundance of substance to offer to your prospects. You don't have much cash, but you have plenty of passion.
That's why I'm a tremendous fan and outspoken proponent of content marketing. Content marketing is the perfect strategy to help generate good karma by sharing strategies, courses, reports, case studies, tips, and helpful content for your ideal audience.
Content marketing is also excellent to spread the word about your lead magnet. After you share your best content for free with your prospective audience, let them know about your lead magnet! Try to include a brief call to action within each piece of content you publish so you hopefully transform your content marketing efforts into a lead generation current.
# 2 – Here's 5 Genius Ways You Can Share Your Message To Help Generate Leads
You might be thinking, "Okay Mike! I agree! Content marketing sounds great! But… I have no clue how to get my message out to the world! Any tips?" – In which case, I've got you covered.
There are a ton of techniques you can use to share your content with your prospects. The following are some of my favorites.
Content Marketing Methods To Help Spread Your Message With The World:
Webinar Marketing – Webinars rock if you have an outstanding tutorial or short course to share! Webinars can also help you to sell your stuff, and they're absolute for email list building.
Blogging And SEO – As a nerdy blogger, I adore blogging and SEO! Blogging is one of the coolest ways to share your best content with the world. Be sure to advertise your lead magnet and funnel on your blog!
Live Streaming – Apps like Zoom and GotoWebinar make it manageable and natural to broadcast your free tutorials, coaching sessions and digital courses live to your audience. Turn your streams into a chance to advertise your lead generation funnels!
Membership Websites – Membership websites are perfect for sharing your digital books, products, courses, audiobooks, et cetera. Use services like ClickFunnels or Kajabi to make the process easy!
Email Courses – Email courses are one of my favorite methods to share your message these days. Email courses rock for lead generation and they're excellent for producing tons of high-grade karma and supporting your audience!
You've Never Had This Many Lead Generation And Content Marketing Possibilities!
Remember, that these content marketing methods barely scratch the surface. TikTok, Facebook Groups, Podcasts, YouTube videos, and email drip campaigns are other popular content marketing methods perfect for lead generation on a budget.
I also wrote a legendary guide that teaches how to create an email course that your students will love. If you wish to generate leads using the art and science of email courses, then you might love to read!
# 3 – My Best Lead Generation Tip For Writers, Bloggers, Creators, And Influencers Alike
Publishing frequent content is one of my favorite methods to promote my lead generation funnels by far. But, what the heck happens when you run out of content ideas? Content marketing won't help you advertise your lead magnets if you can't conceive of ideas to write about on your blog!
Can you relate? Have you ever suffered from writer's block when trying to publish consistent blog posts, SEO, or social media content?
One of my most treasured lead generation strategies is to use services like Answer The Public, SEMRush, Google Trends, and UberSuggest to brainstorm content marketing ideas.
These tools can help your small business determine the exact problems and frustrations that those in your niche experience. Why is that a profound notion for lead generation? Because now you can brainstorm a relentless stream of content creation ideas whenever you wish.
Whether you want to publish blog posts, YouTube videos, webinars, or email courses – having an idea of what your ideal subscribers want and need is a critical advantage to have.
Use popular SEO tools to figure out what the hot trends are in your niche! I'm also a fan of Pinterest group boards to help discover popular trends and ideas for content marketing.
Lead Generation Tips During A Down Economy FAQs And Lead Generation FAQs
After studying and developing lead generation methods for countless years, I've exerted a ton of effort brainstorming these topics. Let's talk more about some of the most common FAQs you might encounter when generating leads.
# 1 – What's The Best Lead Generation Software If Money Is Tight?
I'm a huge fan of ClickFunnels. ClickFunnels makes it simple for you to generate leads without a significant marketing budget and without hiring a trio of developers. ClickFunnels is the only app you need to generate leads and sell your products.
Even if you're not skilled with copywriting, marketing, or web design – relax. ClickFunnels boasts a plethora of templates that are absurdly straightforward to use without a hiccup.
# 2 – Do Solo Ads Still Work For Lead Generation?
Yes! I've purchased over 100 solo ads on Udimi and I'm a huge fan. I've generated countless thousands of leads with solo ads. Udimi is, to my knowledge, the world's largest solo ad marketplace.
You might be thinking, "But Mike, dude, what's a solo ad?" – A solo ad is when an email newsletter publisher sells you an advertisement. That ad goes out to their email newsletter.
Usually, solo ads are reserved for newsletters within mainstream niches only. Consider solo ads if you're in a popular niche like internet marketing, work from home, self-help, weight loss, et cetera. If you're in an exceptionally rare (unique) niche, then avoid solo ads like the plague – they are not for you.
# 3 – Does Webinar Marketing Work For Lead Generation?
Yes, absolutely. Webinar marketing is one of my favorite methods to not only generate leads but to build rapport and authority with your prospects.
You can also use tools like ClickFunnels or Demio to help automate your webinar marketing endeavors. That way, you can use your webinar presentation to help share your content and tutorials without suffering the anxiety and stress of a live audience.
# 4 – What's The Best Free Lead Generation Strategy?
I think that blogging is personally my favorite lead generation strategy. That said, my answer has changed a lot over the years, and will presumably change again as time passes!
A much better question to ask, is what do you prefer? Do you relish blogging? Talking? Interviewing others? Writing? Sharing? Teaching? Live streaming? Figure out which content marketing strategy you like the most, and then push like a warrior creating continuous content all the while declaring the word about your lead magnets and lead generation funnels!
By the way, I wrote an epic guide that talks about elite sales funnel ideas for bloggers using WordPress. If you're a blogger, and if you wish to brainstorm more about blogging, then I wrote this guide, with much affection, for you.
# 5 – How Can I Follow Up With My Leads Without Being Too Pushy?
The most dependable email marketing followup tip I can give you is to be benevolent, magnanimous, and friendly to your subscribers. Try your best to accommodate them. How can you help them? Simple.
Share immeasurably significant content with them. Share tutorials, reports, reviews, guidance, case studies, books, courses, and tips related to your niche. Invite them to ask questions, and try your best to make their lives better.
Figure out what troubles they experience in your niche, and solve those problems. Don't forget to slide a promotion in now and then! Let your audience know that you're there to help and that you have products and services ready to assist them further.
Conclusion
I realize how dreadful the economy is these days. That's why I'm vehement about content marketing for lead generation! Paid advertising is scary. Content marketing is a lot of work, but, in my opinion, it's a lot less intimidating than paid advertising! If you love to write? Then heck, content marketing rocks.
That's my two cents, at least. Content marketing is one of the coolest ways to share your message with the world, while also promoting your business and lead magnets at the same time.
I hope that you had fun reading this humble blog post. Until next time, please have a beautiful day.
Cordially…
Mike "Economic Recovery" DeVincent
MrComputerScience.com